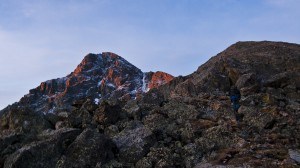 8:58 p.m.: Try to fall asleep. Still too bright outside…
9:23 p.m.: Asleep.
Sometime Later: Awaken. Startled at the sound of a rock slide on the nearby ridge. Glad we are not camped too close!
4:32 a.m.: Alarm goes off. Not even close to being ready to get up. Snooze!
4:37 a.m.: Alarm goes off. Again. Ready or not, it's time to get up.
4:42 a.m.: Stumble in a daze up to the kitchen with my headlamp illuminating the way.
4:46 a.m.: Make lunch. Believe it or not, making two PBJs is tough at this hour.
4:51 a.m.: Brush my teeth. Also a struggle…
5:00 a.m.: Leave camp and start hiking. Still dark.
5:27 a.m.: Arrive at our stretch circle spot.
5:31-5:51 a.m.: Stretch and answer goofy questions.
5:52 a.m.: The hike continues…
5:59 a.m.: The sun is just coming over the ridge and I remember why I enjoy doing this again. Beautiful!
6:27 a.m.: Arrive at our work site. Approximately 12,800 feet (or so).
6:31 a.m.: While eating a banana and looking at the early morning sun light up the Gore Range, I again realize why I love my job.
6:45 a.m.: Start work. Discuss objectives for the day ahead with Megan.
7:03 a.m.: First hiker of the day passes through and asks, "Are you guys building an escalator to the top?"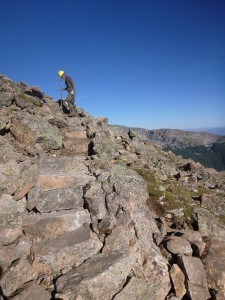 7:37 a.m.: I spot a pika licking someone's sweaty jacket and quickly chase it off.
7:43 a.m.: Move large rock.
7:59 a.m.: Move another large rock.
8:12 a.m.: First cloud of the day pops up.
9:45 a.m.: Lunch.
10:19 a.m.: Move another large rock.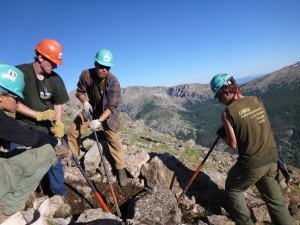 10:52 a.m.: Clouds are building.
11:30 a.m.: Break.
11:59 a.m.: Looking like a storm before too long.
12:37 a.m.: Cache tools. Storm is closing in.
12:50 a.m.: Start hiking down to basecamp.
1:37 a.m.: Arrive back at camp just before it pours.
1:44-4:06 p.m.: Rain.
6:23 p.m.: Cook dinner. Quinoa with chicken sausage, veggies and sriracha.
7:07 p.m.: Dish duty.
7:23 p.m.: A deer creeping around camp scares me when it appears quickly from behind a rock.
8:02 p.m.: Headed for my tent.
8:27 p.m.: Been reading for a few minutes and hoping to fall asleep soon. 4:30 a.m. is only 8 hours away.
8:53 p.m.: Asleep. I think.