In the past I've come to the mountains expecting the spectacular. The larger-than-life views, epic hikes, and extreme environments.  Guessing at which mountain critters I'll see during my trip, I secretly hope to see a bear. With a pocket guide at hand, I'm ready to identify some beautiful alpine flora. My pack is prepared for the hottest and coldest weather, snow and sun, wind and rain. Ready to step foot into the vast solitude, the daunting extremes, and the immense beauty, I take on the adventure.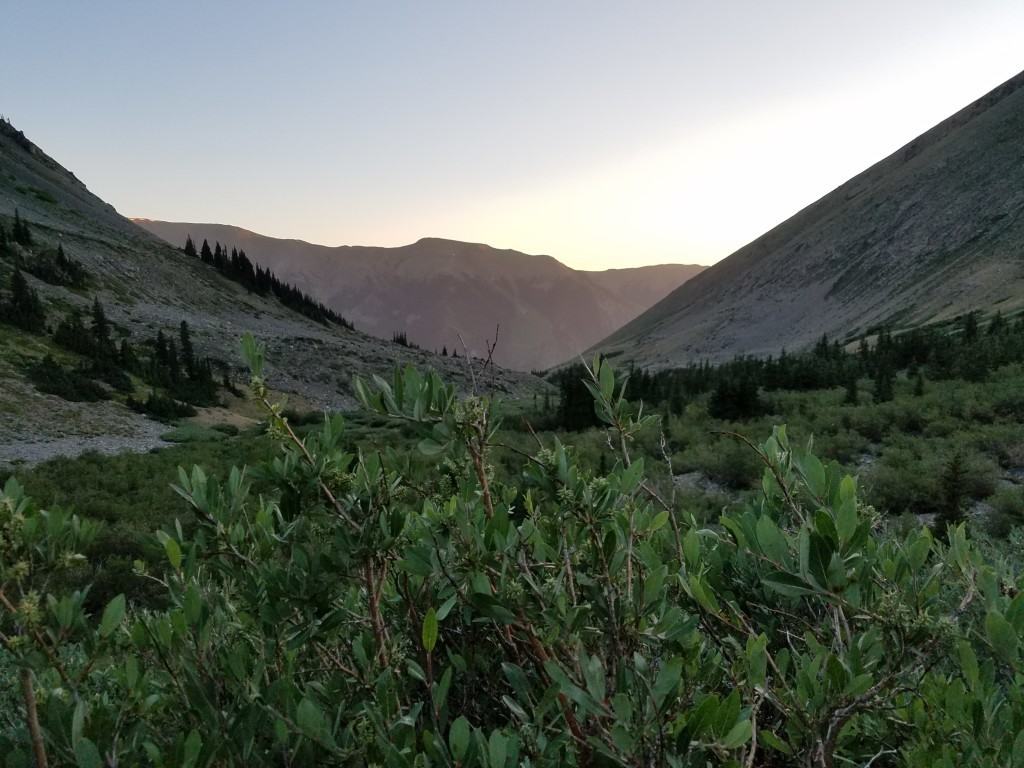 This had been my experience of the mountains of Colorado, until this 2016 summer added new twists. In April, I received a call offering me a job with Colorado Fourteeners Initiative as an Outdoor Leadership Intern. The memories of past hikes into the mountains fueled my excitement for the upcoming trail season. But I'd never gone to the mountains for work. Little did I know, trail work would be a whole adventure of its own.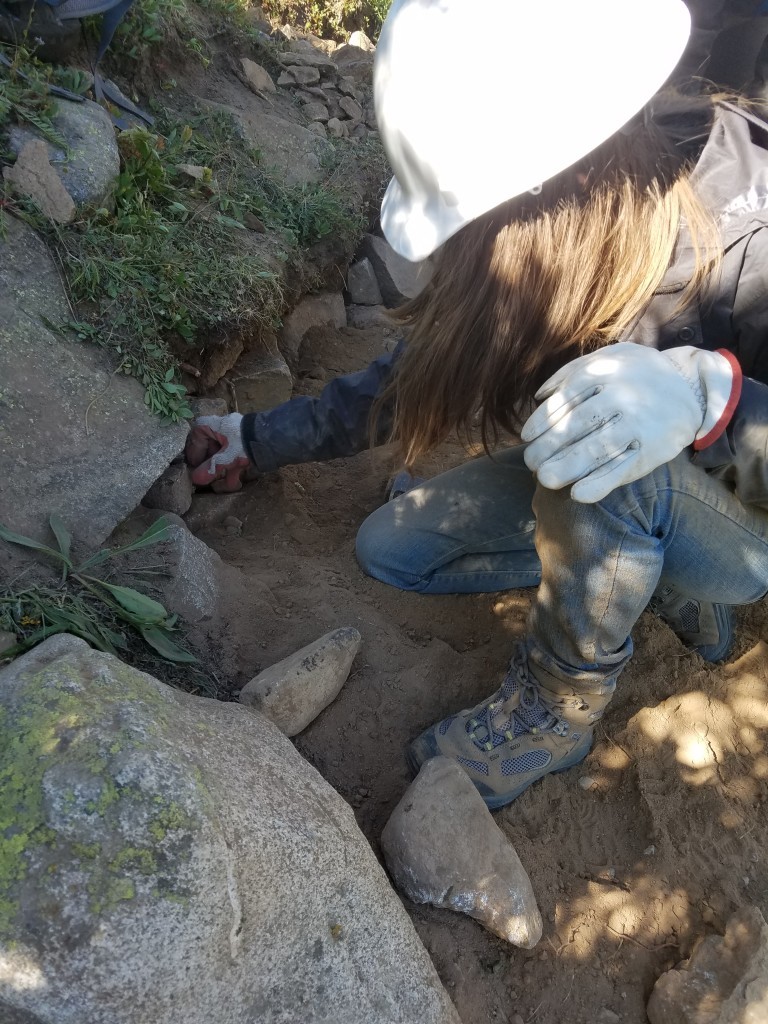 The first aspect of trail work that changed my perspective on mountains was looking at a trail objectively. On my first day of staff training, as I struggled up Mt. Elbert, I couldn't tell whether my confusion was from altitude sickness or information overload. There is SO much to know about  trails and alpine conservation! Amazed by my coworkers' ability to read a trail, critique past work, and quickly develop a solution, I could only hope to absorb half of their knowledge in a summer. Hiking up the mountain every morning, I've realized we look at the trail for water erosion and foot traffic braids more than we do for views and wildlife. I try to glean every bit of information from my adept crew leader and mentor, whose skill in rock structures sets such a solid and aesthetically beautiful precedent I could only hope to work towards. Unlike my past trips into the mountains, the work is not about immersing oneself into the environment, but about protecting it through stewardship. When I look out on the beautiful mountain skyline, I'm not just overcome by a sense of majesty but a new sense of duty.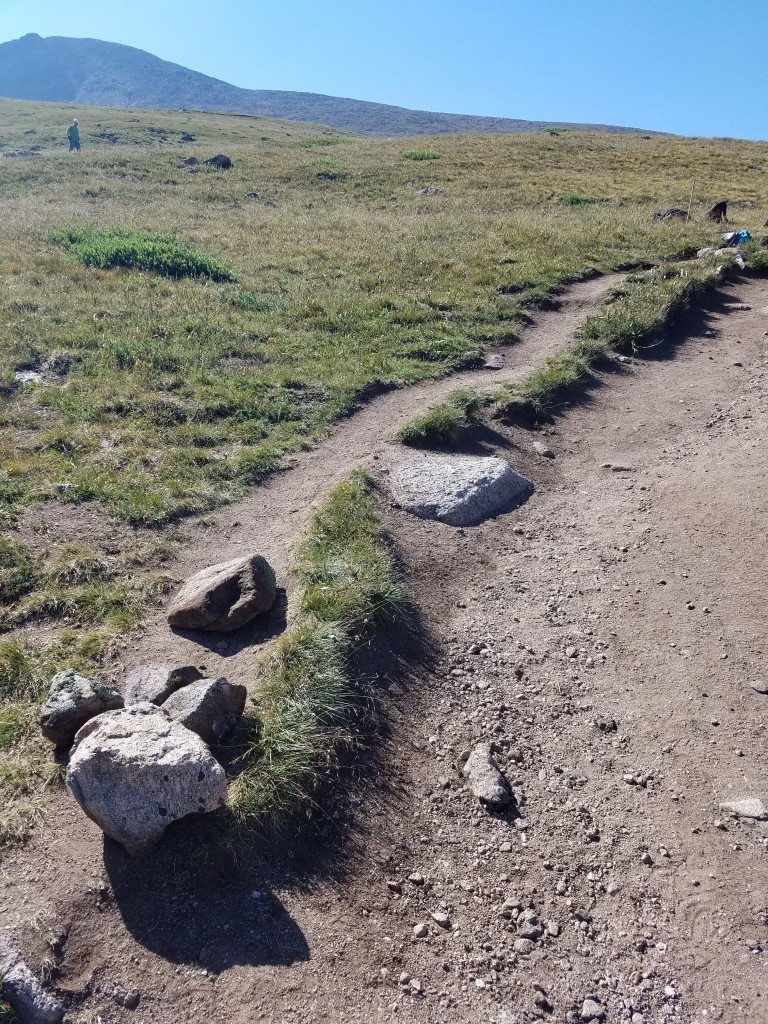 Trail work is also more about teamwork and community than I ever could have expected based on my solitary ventures into the mountains. I am learning from my skilled and innovative crew and at the same time relaying my knowledge to our generous volunteers. There isn't a time where we don't work together, whether it is to move a 400lb rock, for a second opinion, or to wrap a twisted ankle. At camp, the trade off between who cooks and who does dishes is always appreciated!  A team dynamic adds more fun to the work. Crew members become family. Volunteers become inspiration.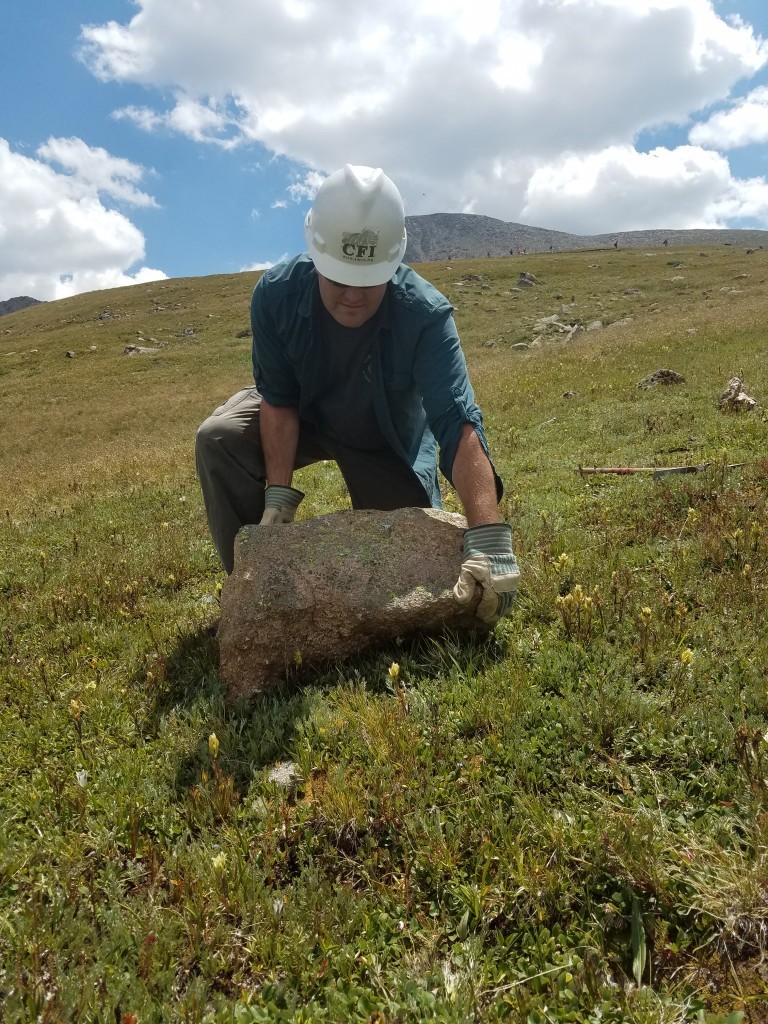 Through team work I've learned what it means to be an Outdoor Leadership Intern. Outdoor leadership involves flexibility and adaptability, learning and sharing. It's not just about leading volunteers up a mountain and showing them where to work. It's about offering a window into a trail worker's world for those volunteers who are passionate about alpine conservation. It's about sharing what I know about back wall, retaining walls, steps, and waterbars and the reasons why they're necessary. It's about providing technical support at the work site, medical support when there are smashed fingers, guidance with the cookstoves, and knowledge of the local ecology. Making sure no volunteer's time is wasted, but instead every minute is productive and every volunteer makes an important impact. Not to mention, there is nothing better than hearing a 14 year old volunteer recite the principles of Leave No Trace and care about them too! Outdoor leadership is sharing compassion for the alpine environment and helping others see it as stewards rather than users.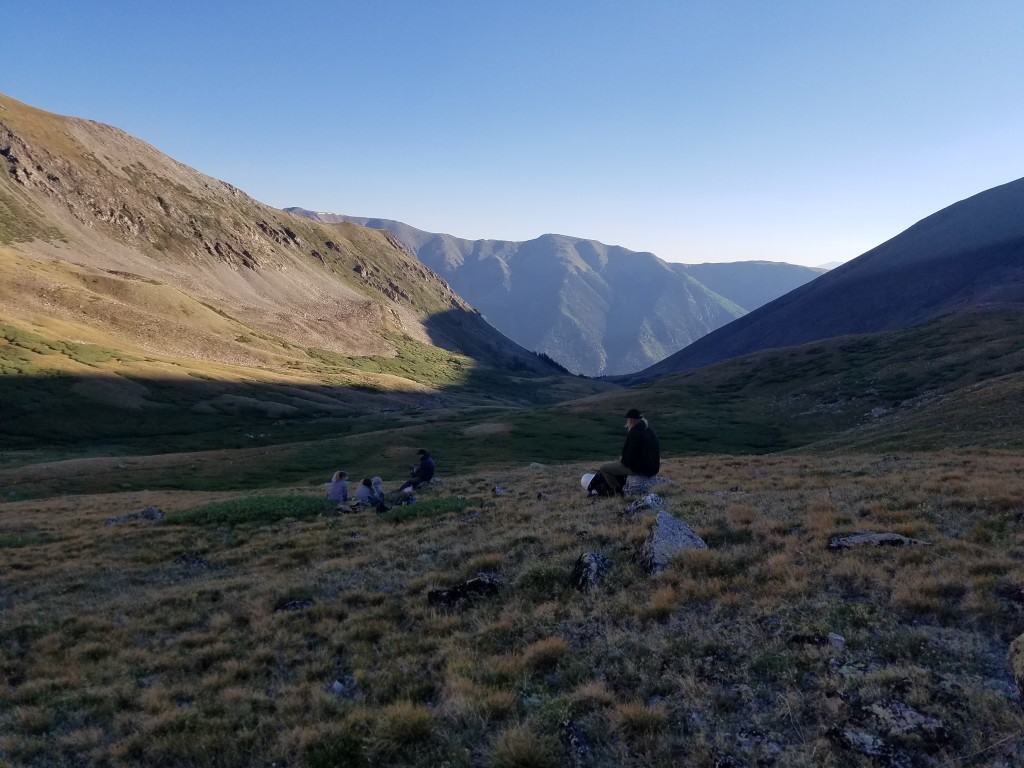 As I face the last few weeks of trail work of this season, I've been reflecting on how my perception of the Rockies, my beloved Sawatch Range, and fourteeners in general, has changed. A new sort of care and protective concern for the land has grown within me. I couldn't have asked for a better position with CFI. I want to share everything I learn, as a leader and a guide, with hikers, volunteers, and friends. I want to give back to these mountains that give so much to me. This is my first season, but definitely not my last.
A special thank you goes out to the Kimberly Appelson Endowment Fund and Appelson Family for their continued support of CFI's internship program!