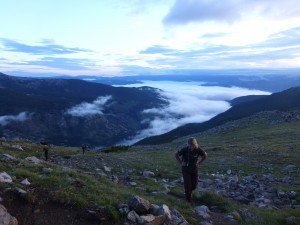 How many times have we heard people complain about their commutes to work? Most people may spend several hours in their cars a week getting to and from work. There may be six lanes of traffic and smog, crazy drivers, and always road construction. This arduous commuting sounds like no fun, but let me explain my commute to the job site on Mount of the Holy Cross.
First thing: My coworker and I, and our awesome Rocky Mountain Youth Corps members, wake up between 3:30 and 4:30 a.m., depending on the amount of breakfast and coffee desired. We start hiking with headlamps at 5:00 a.m. sharp. We ascend in the early dawn light and alpenglow to just under treeline. This usually takes about 30 minutes. We all take part in a safety and stretch circle accompanied by a goofy question of the day to get us all laughing, such as, "If you could replace your hair with any plant, what would it be?"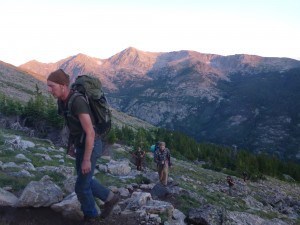 Oh, but that's not all. There's more. After stretching we have another hour-long trek up to the job site climbing the 769+ steps that were all put in by past trail crew workers. Most rewarding is climbing the last 76 steps to the work site, steps our crew put in this season over the past two weeks.
I am not going to complain about my commute to work this summer. I get an awesome workout on a stair master at high elevation. I am awed by the sunrise, alpenglow, and vast expanses of the mountains above treeline. And then we get to play with big rocks all day! What could be better than that?