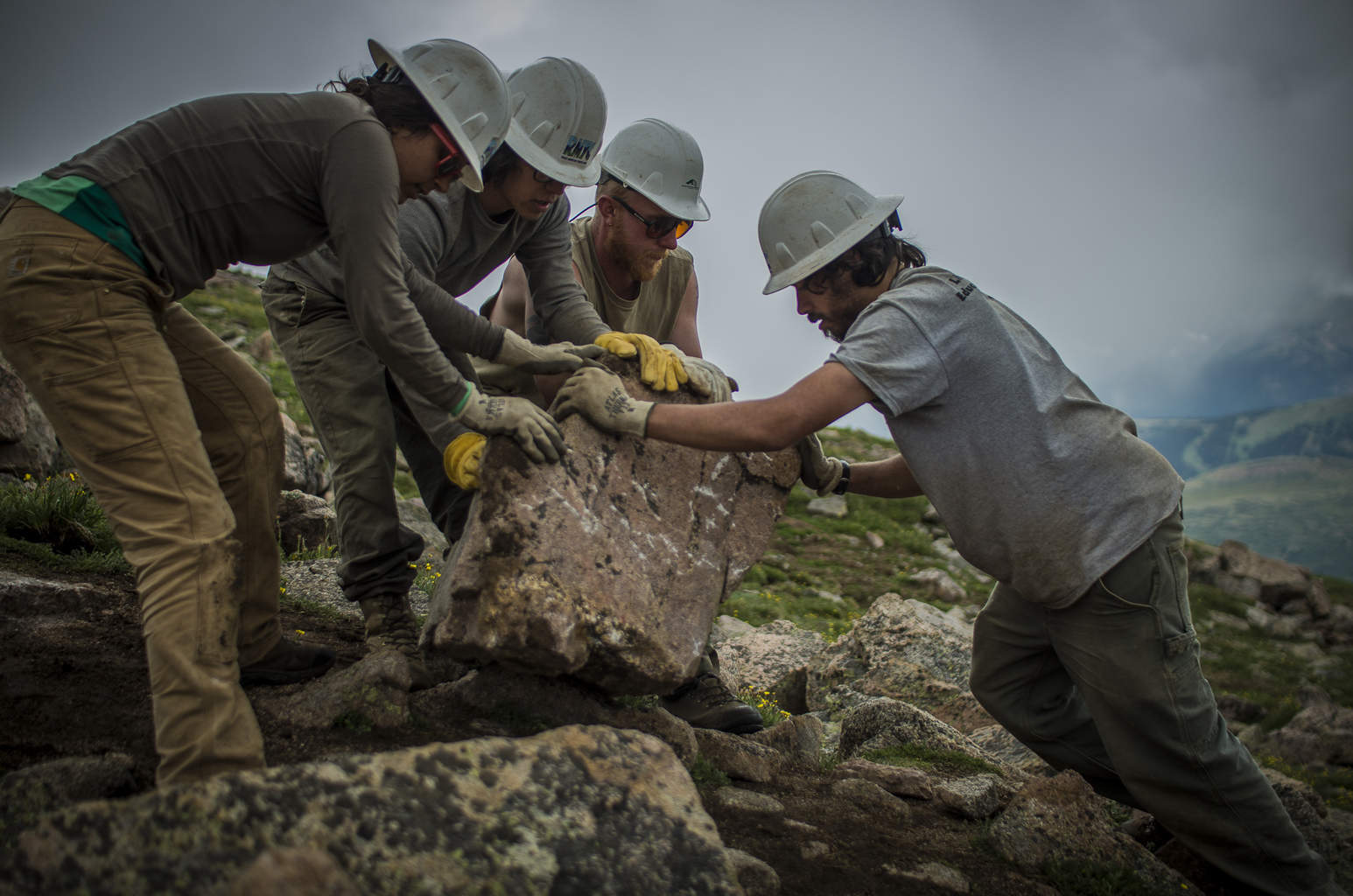 A few years ago I spent the summer working on San Luis peak, Colorado's least visited Fourteener. In total we spent two years working on San Luis, rerouting the trail and hardening areas of high erosion potential. But if you went to San Luis today you'd have to know the trail fairly well and know what to look for to really see what we've done. Because San Luis is a mountain that still feels pretty wild. On the right day you might see more moose on the trail than other hikers. San Luis does not need a paved parking lot, or a staircase to the summit, and hopefully it never does.
But some mountains do need a parking lot, and a bathroom, and a boardwalk, and a very apparent level of maintenance. At Mt Bierstadt the work that we're doing is very visible, because Bierstadt is not a normal fourteener. It is for many people, an introduction to mountain climbing, and a first step into designated wilderness. Some days the cars overflow from the parking lot far down the pass and hikers cross through our work area in an uninterrupted stream. As we near the half-way point in our summer season we've seen countless people on the Bierstadt trail, from all different backgrounds. The most noticeable characteristic that brings most of these people together, they are remarkably unprepared.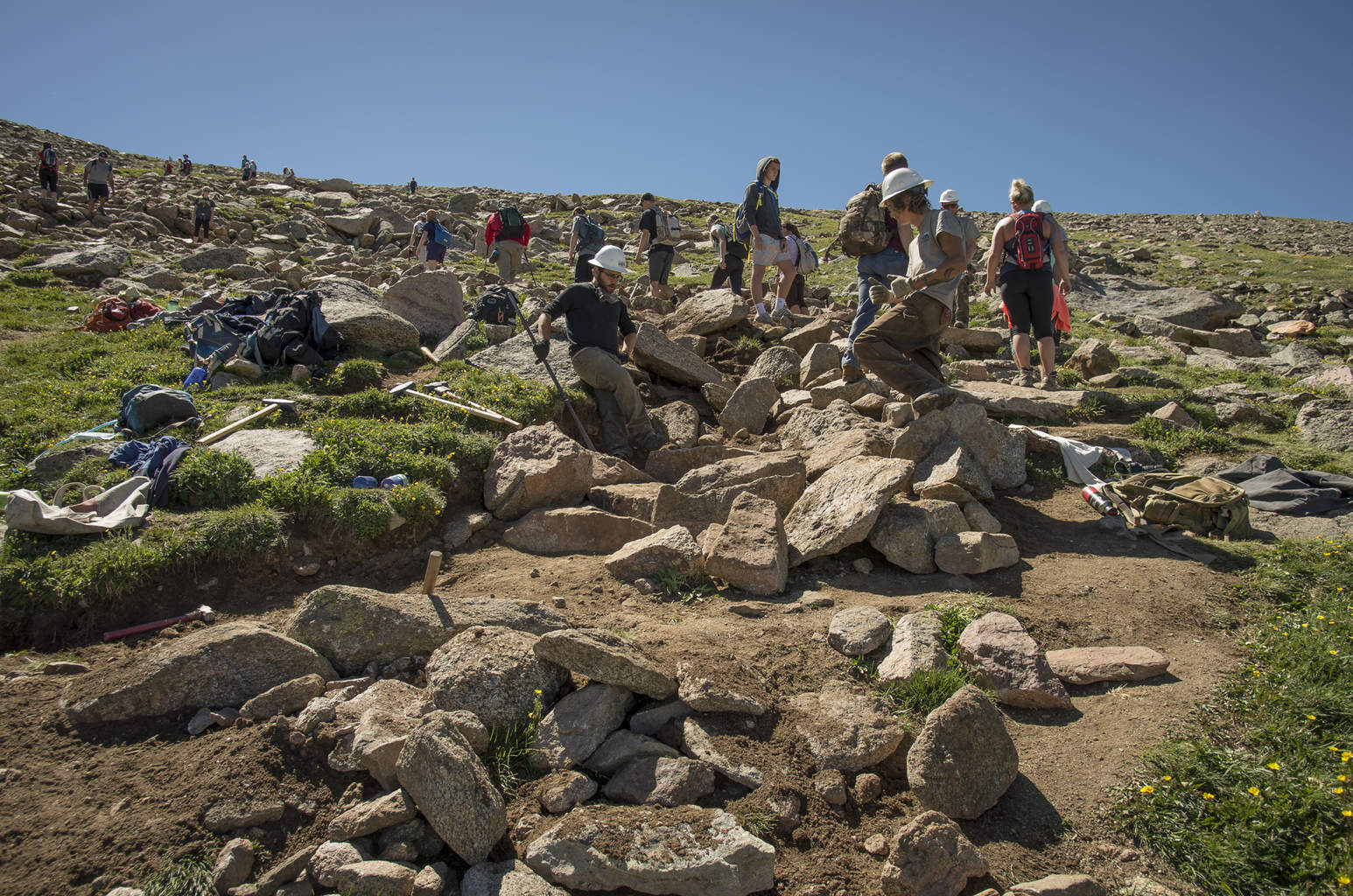 Mt Bierstadt is where people go for Fourteener climbing 101. And these are the lessons they receive:
Lesson 1.
You climb Bierstadt in sandals, and you return to the car barefoot and bleeding.
Lesson 2
You hike straight into a monsoon storm wearing nothing but athletic shorts, carrying no backpack and no rain gear. You return to Denver with a mild case of PTSD and a cold.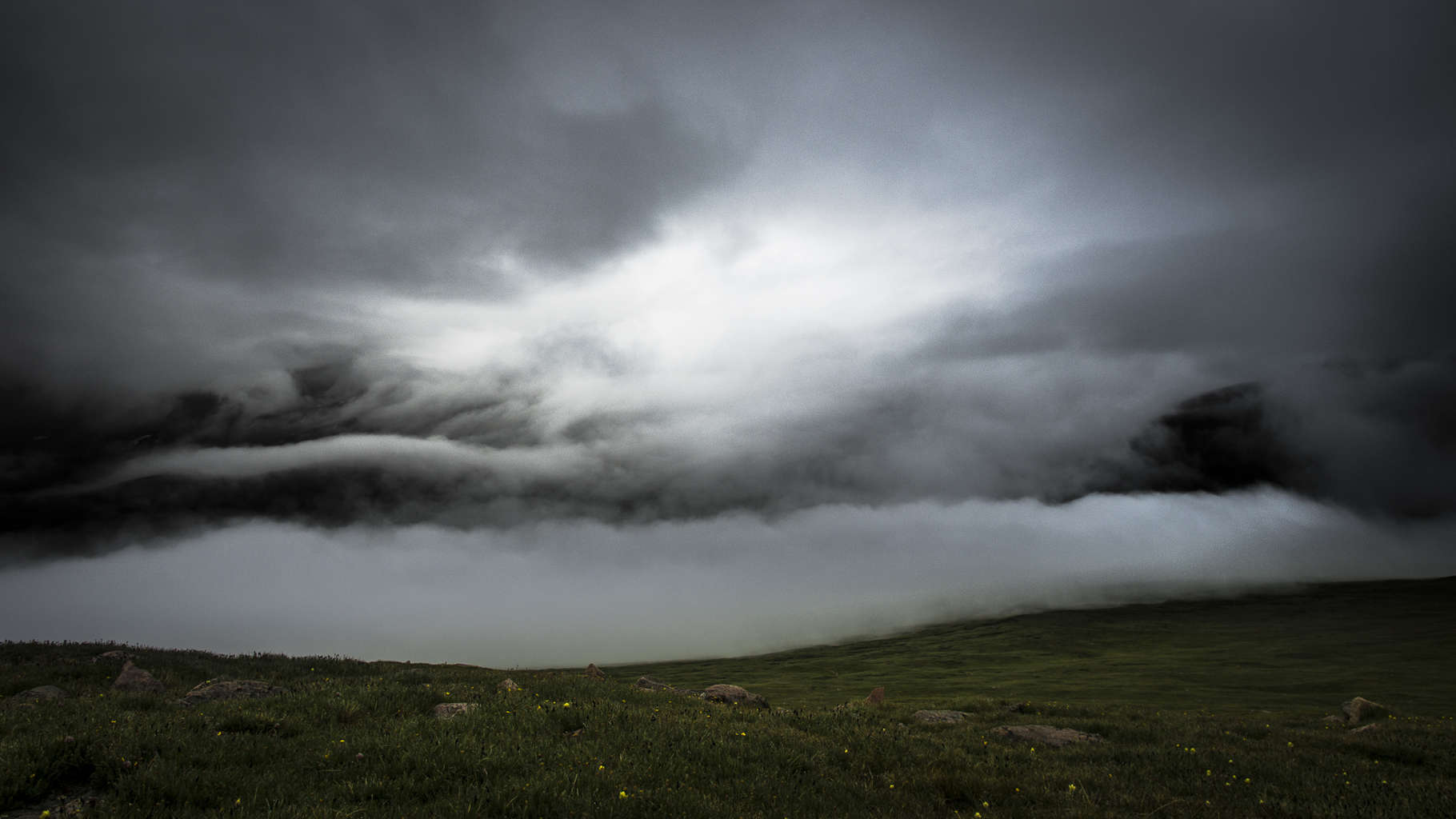 Lesson 3.
It's a beautiful day and there are no storms in sight. You climb casually up the mountain neglecting to bring any water or wear any sunscreen. You stumble back to your Subaru in a sunburned weary stupor and barely survive the drive home.
Lesson 4.
You've now climbed a few different peaks and you're feeling confident. You fly in from Houston and climb Bierstadt the same day you arrive. Less than a mile from the trailhead you vomit all over the expensive new hiking boots you just bought specifically for this trip. The summit seems pointless now, given how terrible you'll look in the summit photo.
Lesson 5.
Now that you're firmly entrenched in the climbing experience, you decide to bring the whole family to experience the wonders of Colorado's high peaks. You arrive at the summit dragging two crying kids, carrying three backpacks, and trailing an exhausted golden retriever. Everyone is in awe, except the dog who immediately attacks a family of marmots. The dog is mauled so badly you have to carry it down, everyone is traumatized.  Your kids promise you there is a Fourteener video game and it is so much better than this.
The work that we do enables hiking trails to be more enjoyable and safer. However, the work that we do is ultimately for the preservation of the mountain. It is up to you, as the hiker, to be well-informed and prepared in order to make the most of your experience in the mountains.