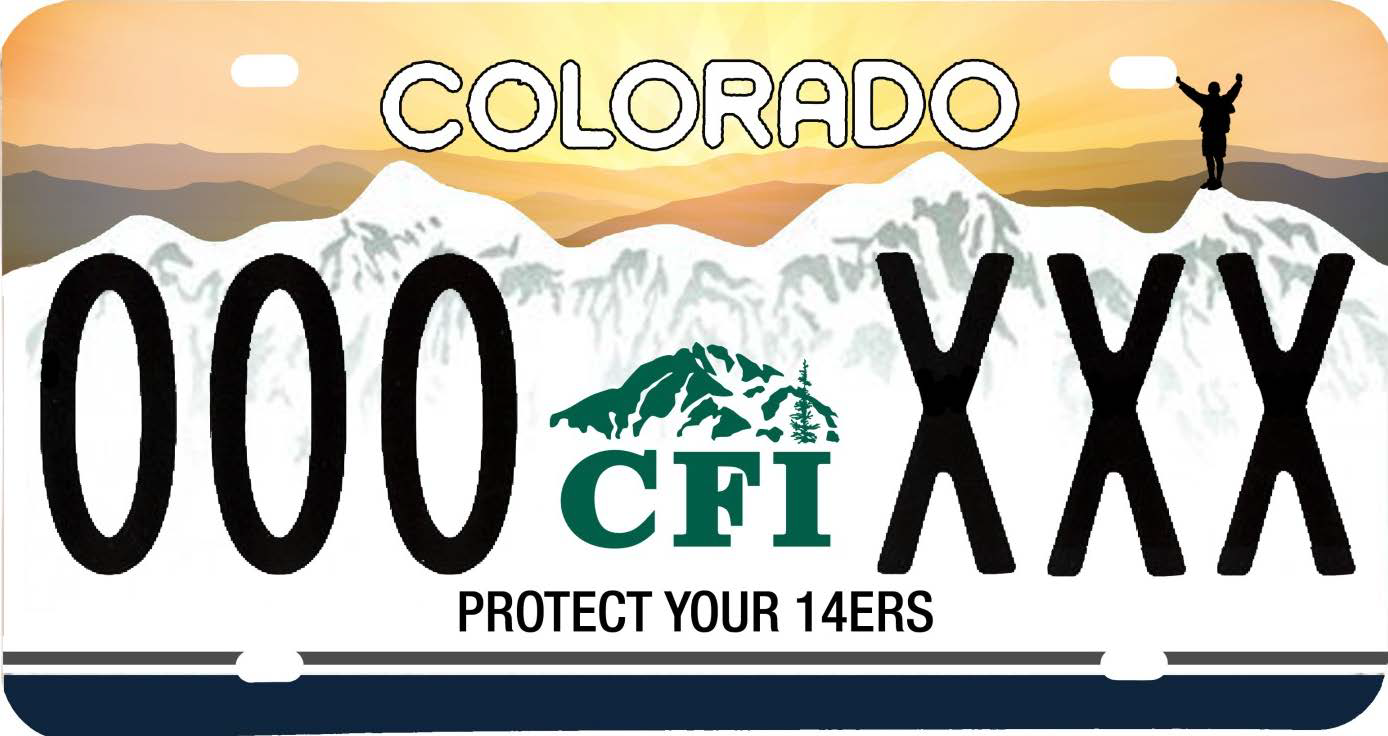 Colorado has many custom license plates to choose from that raise awareness about and provide funding for various causes and organizations. Over the years we've heard from hikers and climbers who wanted a specialty plate that celebrated their love for the 14ers and helped raise money to support CFI's important mountain stewardship work. The good news is that CFI is working on such a license plate and your assistance today could help make this license plate available for purchase as early as 2016.
CFI has started the roughly two-year process needed to get a custom 14ers license plate authorized by the Colorado Division of Motor Vehicles and the Colorado Legislature. Several steps must be taken to authorize and produce a 14er-specific specialty license plate. Your help today to refine the license plate design will get the ball rolling.
Our design team has narrowed down about 10 preliminary con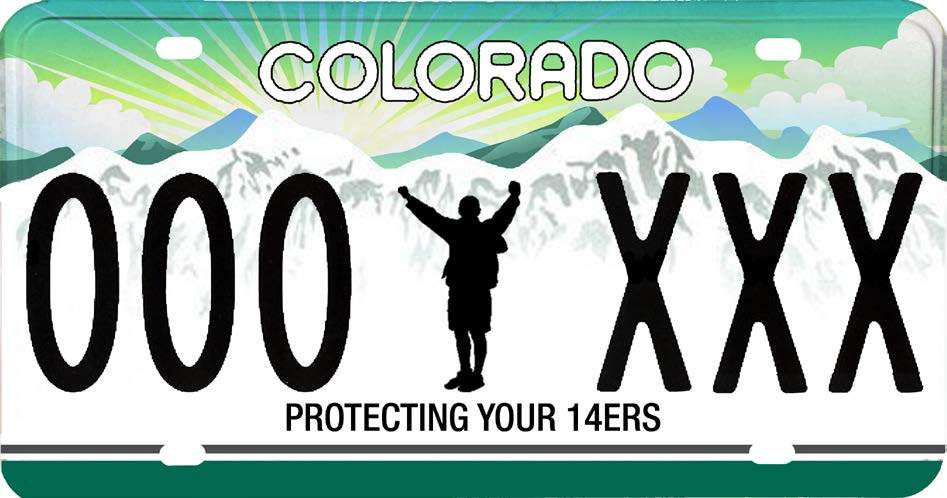 cepts to these two finalists. One features a jubilant climber atop a peak—which 14er is your guess—while the morning sunrise washes over the mountains and foothills. This version features the CFI acronym and logo. The other design features a bright sun illuminating the mountains. In place of the CFI logo a larger jubilant climber with arms raised aloft celebrates the joy of the 14ers. Both feature slightly different tag lines calling people to action to protect the 14ers.
After reviewing various designs over the past few weeks our brains are a wee-bit taxed. We need your critical eye to help select the best possible license plate. Help us choose between the two designs. Or provide feedback that will help us create an even better final design. The goal is to develop a design that will be simply impossible for any self-described 14er enthusiast to overlook when getting new license plates.
Click this link to be directed to a brief, five-question survey that will ensure CFI creates the most appealing Colorado 14ers license plate. The survey asks questions about the overall designs and specific design elements. To make this expenditure of time worth your while, CFI will randomly select 10 survey respondents to receive a complimentary CFI logo hat. (Surveys must be completed and submitted before midnight on Friday, June 13, 2014 to be eligible for selection.)
Once the design has been finalized, CFI will work with the State Division of Motor Vehicles to get it approved. This may involve some further tweaking. We will then post an online petition to begin obtaining the 3,000 commitments from people to buy the plates once they are issues. This is the step needed before we can go to the Colorado Legislature to get a bill passed authorizing the specialty license plate.
Thanks for your help in getting these CFI/Colorado 14ers license plates one step closer to reality. With your help we can get broader attention to the Colorado 14ers and help raise money for CFI's important mountain stewardship work.