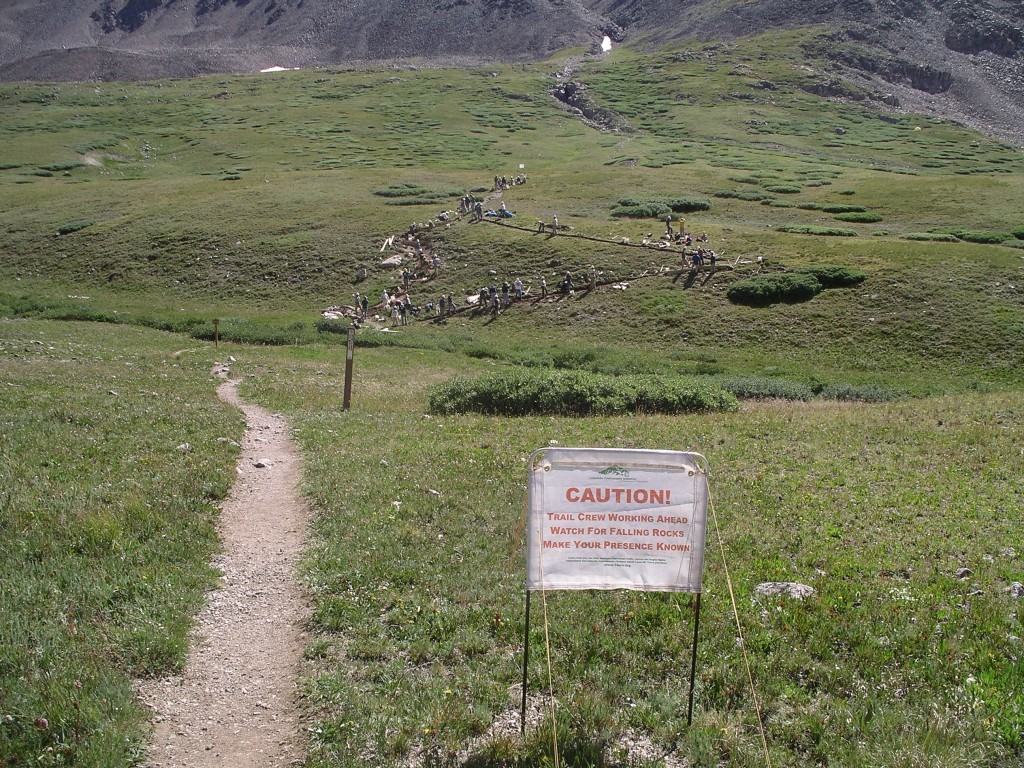 The Adopt-a-Peak crew has tackled projects on 15 different peaks this summer. In our travels, Ben Sample and I have noticed that many 14er hikers have no idea what to do when they encounter us. So, for the benefit of the hiking community (and next summer's crews), we have compiled a "dos" and "don'ts" list for interacting with 14er trail crews. Enjoy!
Do…
Make your presence known to the first worker you approach
That worker will alert the rest of the crew that you are coming through. Once notified, they will stop working, move their tools aside, and instruct you on the safest path through our "war zone."
Ask questions
Trail work can be confusing to the untrained eye. We are passionate about our work and eager to explain its benefits. Plus, it gives us a chance to take a break from moving big rocks.
Stay on the trail, even if it's muddy
Hikers walking around a muddy stretch of trail create new work for us by damaging fragile vegetation and starting new user paths. (Call them "social trails" if you want to impress us.) While the job security is nice, we'd rather see you either wear appropriate mountain footwear (waterproof boots that go above the ankle), or, if you choose to go the lightweight route, accept that your feet will get wet and muddy if climbing a 14er after a big storm or in the early season.
Keep your pets on a leash
In Wilderness areas of the National Forest (which is most 14ers, including Mount Bierstadt), it is the law and you could be ticketed for violating this rule. Off-leash dogs (yes, even yours) harass wildlife, trample off-trail vegetation, and can bother non-dog-loving hikers. In addition, Ben and I have seen dogs run right through our work site ahead of their owner, posing a hazard to both dog and crew.
Heed Our Advice
We have years and years of high mountain experience. If we see you hiking up at noon with storm clouds quickly building and we give you a gentle recommendation to turn around, it's probably a wise thing to do. You can bet we'll be right behind you.
Say "Thank you!"
Or, "Great job!" (even if you don't know what we're doing…see "ask questions" above). Or, "You guys are rock stars, I want to have your babies." Whatever you want. Positive feedback from hikers helps keep our motivation levels up on tough days.
Ask who we are working with, and how you can help
We'll probably direct you to this website. But there are a lot of organizations out there, and we want to be correctly identified.
Don't…
Step off the trail (unless specifically directed by a crew member to do so)
Much of the work we do is to mitigate the impact of wandering hikers. Please respect our efforts to contain users to a single pathway by staying on the main trail.
Try to sneak by us unnoticed
Usually the trail is still usable while under repair, but there are times when it is not safe to pass. We are busy swinging tools and moving large rocks and probably won't see you first. We have hard hats on to protect us in case of the unexpected. You don't, so let us know you're there, and we'll make sure you don't get hurt.
Stand directly below a work area
We do everything in our power to work safely, but sometimes a rock can get away or a tool can be dropped, and occasionally roll a switchback or two below our project site. Be smart and take your breaks after you pass us.
Ask when the escalator is coming
It might seem like a harmless joke, but it's not original. (We hear it at least 10 times a day). And though we know it's not the speaker's intention, it portrays a lack of gratitude for the hard work we put in. But, if you say it to Ben or me, we are likely to come back with a line from one of our favorite comedians, Mitch Hedberg:
"An escalator can never break, it can only become stairs. Sorry for the convenience."
See you on the trails!