SUPPORT CFI
Every donation counts!
Donations from individual Fourteener enthusiasts play a critical role in CFI's field successes. Gifts match restricted grants, while funding expenses many foundations and corporations will not cover, such as feeding field crews and transporting crews and supplies to remote trailheads.
Click here to donate now
CONNECT
Follow CFI on Facebook

Add us on Facebook! Follow our updates and see our newest crew photos from the field.
Find out how to promote your page too
UPDATES
What we've been doing
Hiker Education/Peak Stewards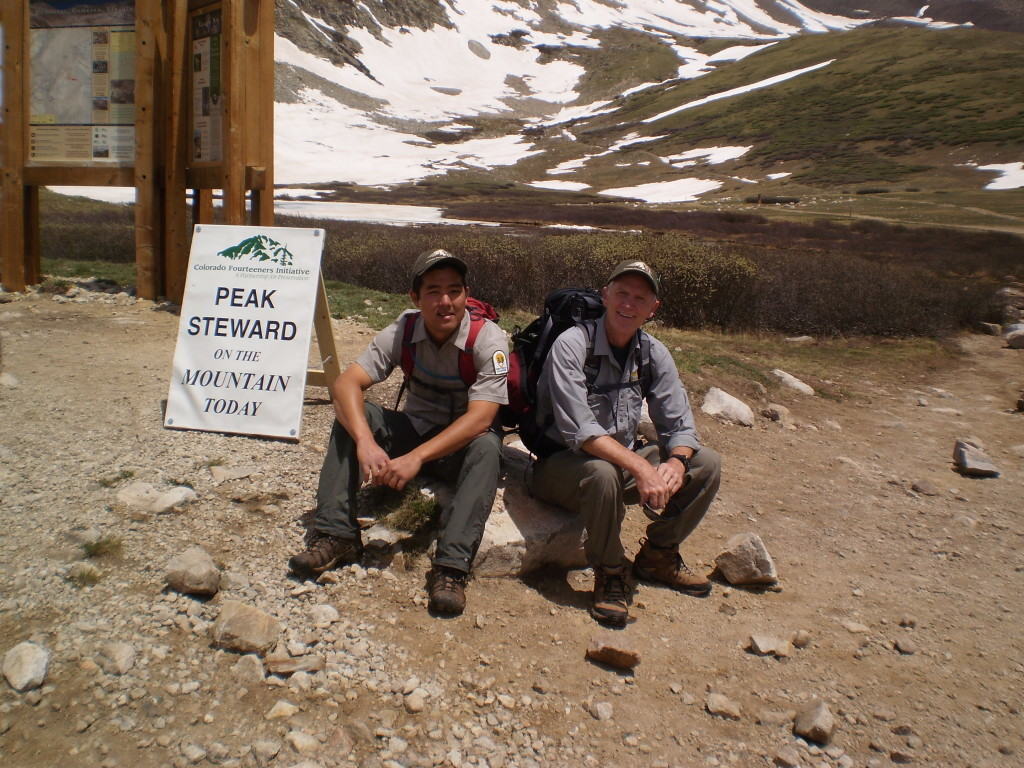 Peak Stewards
Through CFI's "Peak Stewards" program, volunteers play a vital role in educating Fourteener hikers about Leave No Trace practices designed to minimize on-the-ground resource impacts.  Talks at education and outreach events, including REI's "How to Climb a 14er" clinics, reach hikers before they leave town. Peak Stewards also serve as ambassadors in the field, contacting hikers while climbing Fourteeners to reinforce Leave No Trace practices, as well as monitoring visitor actions for the Forest Service.
Volunteers undergo a thorough two-day training program before being deployed to the peaks or community talks. A day of classroom training covers background information about alpine plants and animals, Forest Service visitor regulations, Leave No Trace practices developed specifically for the high-alpine Fourteeners, and visitor contact skills. Classroom training is followed by a day of field training, so volunteers can put theory into practice.
Once trained, Peak Stewards commit to spending four days per season making contact with hikers out in the field or doing outreach events. Volunteers can choose when and where they work, but are encouraged to devote attention to high-use Front Range peaks on heavily used summer weekends. Contact CFI if you are interested in serving as a Peak Steward.