SUPPORT CFI
Every donation counts!
Donations from individual Fourteener enthusiasts play a critical role in CFI's field successes. Gifts match restricted grants, while funding expenses many foundations and corporations will not cover, such as feeding field crews and transporting crews and supplies to remote trailheads.
Click here to donate now
CONNECT
Follow CFI on Facebook

Add us on Facebook! Follow our updates and see our newest crew photos from the field.
Find out how to promote your page too
UPDATES
What we've been doing
Snowmass Mountain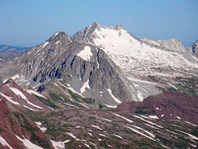 Elevation:14,092 feet (32nd highest)
Maps:USGS Quad: Snowmass Mountain, (Optional Capitol Peak and Maroon Bells)
Trails Illustrated® – TOPO Map # 128
Click here to purchase Trails Illustrated® maps for this route.
Contact:US Forest Service, Aspen Ranger District (970) 925-3445
Recommended Route
Snowmass Lake—use of this route will help to reduce impacts to this Fourteener's fragile alpine environments. For more detailed route information including pictures, maps, and elevation profiles, click here.
Route Information and Additional Resources
The trailhead is approximately twelve miles south and east of Snowmass, CO. From Snowmass, leave CO 82 at the Snowmass Creek Road and drive 1.8 miles to a "T" junction (left is Snowmass Creek, right is Capitol Creek, watch the sign) then 9.7 miles to the trailhead (take a right after 9.3 miles). The trailhead for Snowmass Lake Trail is clearly marked, limited parking is available.
Snowmass Lake is approximately six and a half miles up the trail. The route traverses the south side of the lake, and up the snowfield on Snowmass' east slopes. The total hike from the trailhead to the summit is 8.5 miles and gains 5700 feet.
The above information does not replace the need to consult additional maps and Colorado Fourteener Guidebooks for more detailed route descriptions. We suggest checking multiple resources before departing on any hike. Keep in mind that not all guidebooks list this as a recommended route and that each guidebook's description or route name may vary slightly.
Peak Specific Environmental and Safety Concerns
Volunteers for Outdoor Colorado (VOC) rebuilt the trail to depart from the parking area, and avoid the private property of Snowmass Ranch. Please stay on the trail.
No fires are allowed immediately adjacent to Snowmass Lake.
The trail from Snowmass Lake up to the plateau is extremely eroded and braided. Try to stay on the main trail, and avoid creating new ones. When traveling off trail, make sure to travel on durable surfaces such as rock or snow. The tundra vegetation is extremely fragile and takes hundreds of years to grow back.
Snow can blanket much of Snowmass Mountain well into July. Make sure you are knowledgeable about the necessary equipment and skills needed to attempt traveling on snow.