SUPPORT CFI
Every donation counts!
Donations from individual Fourteener enthusiasts play a critical role in CFI's field successes. Gifts match restricted grants, while funding expenses many foundations and corporations will not cover, such as feeding field crews and transporting crews and supplies to remote trailheads.
Click here to donate now
CONNECT
Follow CFI on Facebook

Add us on Facebook! Follow our updates and see our newest crew photos from the field.
Find out how to promote your page too
UPDATES
What we've been doing
Quandary Peak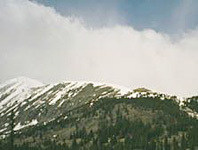 Elevation:14,265 feet (13th highest)
Maps:USGS Quad: Breckenridge
Trails Illustrated® – TOPO Map # 109
Click here to purchase Trails Illustrated® maps for this route.
Contact:US Forest Service, Dillon Ranger District (970) 468-5400
Our Work CFI completed major trail construction and restoration on Quandary Peak from 2001-2002. Due to heavy traffic on this peak, the standard route is maintained regularly by CFI and partner organizations.
Click here to see CFI's Adopt-a-Peak crew in action on Quandary!
Recommended Route Quandary Peak Route—use of this route will help to reduce impacts to this Fourteener's fragile alpine environment. For detailed route information including photos, maps, and elevation profiles, click here.
Important Update: Monte Cristo Route Restoration Follow Colorado Hwy 9 eight miles south from Breckenridge. Go west on Blue Lakes Road (County Road 850). Turn right at McCullough Gulch Road (County Road 851). Follow County Road 851 for a quarter mile to the kiosk and parking lot on the right side of the road. The trail begins slightly up the road on the lefthand side.
Route Information and Additional Resources Although the Monte Cristo Route is mentioned in many guidebooks as the primary or alternate route on Quandary Peak, this route crosses private property to access Forest Service lands. In addition, ecological restoration efforts have been completed along this route. These efforts are vulnerable to continued foot traffic. For these reasons, the Forest Service recommends using the official trailhead along the McCullough Gulch Road.
The above information does not replace the need to consult additional maps and Colorado Fourteener Guidebooks for more detailed route descriptions. We suggest checking multiple resources before departing on any hike. Keep in mind that not all guidebooks list this recommended route and that each guidebook's description or route name may vary slightly.
Peak Specific Environmental and Safety Concerns Although Quandary is one of the easier Fourteeners to ascend, the hike is long. You should begin your hike early in the morning. There is always a strong chance of afternoon showers accompanied by lightning. Please be aware of the exposure. Stay on the trail. Please descend via the new Quandary Peak Route.