SUPPORT CFI
Every donation counts!
Donations from individual Fourteener enthusiasts play a critical role in CFI's field successes. Gifts match restricted grants, while funding expenses many foundations and corporations will not cover, such as feeding field crews and transporting crews and supplies to remote trailheads.
Click here to donate now
CONNECT
Follow CFI on Facebook

Add us on Facebook! Follow our updates and see our newest crew photos from the field.
Find out how to promote your page too
UPDATES
What we've been doing
Handies Peak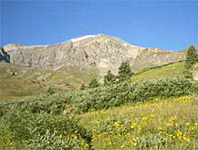 Elevation:14,048 feet (40th highest)
Maps:USGS Quads:
Grizzly Gulch Route: Handies Peak
American Basin Route: Handies Peak
Trails Illustrated® – (both routes)TOPO Map # 141
Click here to purchase Trails Illustrated® maps for this route.
Contact:Bureau of Land Management, Gunnison Resource Area (970) 641-0471
Recommended Route
American Basin Route or Grizzly Gulch Route—use of these routes will help to reduce impacts to this Fourteener's fragile alpine environment. For detailed information on the American Basin Route including photos, maps, and elevation profiles, click here. More information on the Grizzly Gulch Route (in addition to the brief description given below) will be posted as it becomes available.
Route Information and Additional Resources
Grizzly Gulch Trailhead: This trailhead is approximately 20 miles west of Lake City, on the south side of the road. The route travels south and ascends Handies west ridge. Approximately two miles from the trailhead the trail switches back to the north to take advantage of gentler grades (trail directional sign located here). Stay on the trail for a gentler, more environmentally sound route to the ridge above. The route is cairned past tree line. Please follow the cairn trail markers on the ascent and descent to minimize your impact.
American Basin Trailhead: This trailhead is approximately 25 miles west of Lake City. From the basin, a clear trail heads south. A new section was constructed to Sloan Lake and onto Handies south ridge. Approximately one and one-half miles from the trailhead and just below Sloan Lake, the trail turns south to access a shale ridge (trail directional sign located here). Stay on the trail for a gentler, more environmentally sound route to the ridge above, where the trail turns northeast toward the peak. American Basin is a high use area. Stay on the trail on the ascent and descent to minimize your impact.
The above information does not replace the need to consult additional maps and Colorado Fourteener Guidebooks for more detailed route descriptions. We suggest checking multiple resources before departing on any hike. Keep in mind that not all guidebooks list this recommended route and that each guidebook's description or route name may vary slightly.
Peak Specific Environmental and Safety Concerns
It is recommended that this route be hiked during the summer months (July or August) after the snow has melted. However, if snow is encountered on the trail, hike on the snow until the trail is visible and then continue on the trail. Because alpine vegetation is extremely susceptible to impacts, especially when wet, please stay on the trail at all times. Leaving the trail for a "straight up the mountain" approach may be quicker, but will cause erosion and will damage the fragile tundra plants.
Minimum impact camping is permitted at the trailhead and along the trail. There is a campsite located approximately 100 yards from the parking area in the trees along the first part of the trail. There is a restroom at this site. Use stoves instead of campfires in order to lessen the impact to the surrounding environment.
When hiking/backpacking in this area, it is important to be prepared for typical July and August afternoon thundershowers. It is best to get an early start and plan to be off the peaks by noon or 1:00 p.m. to avoid lightning strikes.
The San Juan National Forest requires that all camps are "bear proofed", meaning primarily that food and garbage must be hung out of the reach of bears.