SUPPORT CFI
Every donation counts!
Donations from individual Fourteener enthusiasts play a critical role in CFI's field successes. Gifts match restricted grants, while funding expenses many foundations and corporations will not cover, such as feeding field crews and transporting crews and supplies to remote trailheads.
Click here to donate now
CONNECT
Follow CFI on Facebook

Add us on Facebook! Follow our updates and see our newest crew photos from the field.
Find out how to promote your page too
UPDATES
What we've been doing
Mount Eolus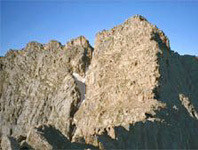 Elevation:14,083 feet (33rd highest)
Maps:USGS Quads: Columbine Pass, Storm King Peak, and Mountain View Crest
Trails Illustrated® – TOPO Map # 140
Click here to purchase Trails Illustrated® maps for this route.
Contact:US Forest Service, Columbine Ranger District (970) 884-2512
Our Work CFI began major trail construction and restoration on Mt. Eolus this summer. Our crews will close and restore existing trails in addition to opening new, sustainable reroutes.
Click here to view a Google Earth projection of our project on Mt. Eolus!
Recommended Route Chicago Basin Route—use of this route will help to reduce impacts to this Fourteener's fragile alpine environment. For detailed route information such as photos, maps, and elevation profiles, click here.
Route Information and Additional Resources Two approaches are available to the Chicago Basin. The first approach involves an 18-mile backpack from Purgatory Trailhead off Highway 550 near the Purgatory Ski area. The second approach is to take the Durango & Silverton Railroad to the Needleton Stop. From the Needleton stop, you hike another 6.5 miles east to the Chicago Basin.
For Eolus Peak, gain the Twin Lakes Trail out of the Chicago Basin. From Twin Lakes, head west-southwest to Eolus. The route is fairly complex, and contains loose rock hazards and exposure. Consult a guidebook for information on safe hiking. After gaining the saddle between Eolus and North Eolus, follow the 'catwalk in the sky' southwest to Eolus.
Contact the Durango & Silverton Railroad, at 970.247.2733 for tickets, departure schedules and reservations. Check backpacker policies in place at that time.
The above information does not replace the need to consult additional maps and Colorado Fourteener Guidebooks for more detailed route descriptions. We suggest checking multiple resources before departing on any hike. Keep in mind that not all guidebooks list this recommended route and that each guidebook's description or route name may vary slightly.
Peak Specific Environmental and Safety Concerns No wood fires are allowed anywhere in the Needle Creek Drainage.
No wood fires or camping are allowed in the Twin Lakes Basin.