SUPPORT CFI
Every donation counts!
Donations from individual Fourteener enthusiasts play a critical role in CFI's field successes. Gifts match restricted grants, while funding expenses many foundations and corporations will not cover, such as feeding field crews and transporting crews and supplies to remote trailheads.
Click here to donate now
CONNECT
Follow CFI on Facebook

Add us on Facebook! Follow our updates and see our newest crew photos from the field.
Find out how to promote your page too
UPDATES
What we've been doing
San Luis Peaks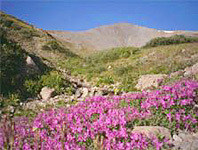 Elevation:14,014 feet (51st highest)
Maps:USGS Quads: San Luis Peak, Stewart Peak, and Elk Park
Trails Illustrated® -TOPO Map #139
Click here to purchase Trails Illustrated® maps for this route.
Contact:US Forest Service, Gunnison Ranger District (970) 641-0471
Our Work CFI began major trail construction and restoration of the Stewart Creek trail on San Luis Peak in 2012. Work on the peak continues this summer on the Cochetopa Creek trail.
Click here to view a Google Earth projection of our project on San Luis!
Recommended Route Stewart Creek Route or West Willow Creek Route – use of these routes will help to reduce impacts to this Fourteener's fragile alpine environments. For detailed information on the Stewart Creek Route including pictures, maps, and elevation profiles, click here. More detailed information on the West Willow Creek Route will be posted as soon as it is available.
Route Information and Additional Resources Stewart Creek Trailhead is accessible from Gunnison, CO. It is approximately 50 miles south of Gunnison. This route gains the saddle between San Luis and Organ Mountain and then travels up the northeast slope.
West Willow Creek Trailhead is accessible from Creede, CO. It is approximately 8 miles north of Creede. This route intersects with, and follows the Colorado Trail for a few miles. The final approach is on San Luis' south ridge.
Both routes require good directions to locate the appropriate trailhead.
The above information does not replace the need to consult additional maps and Colorado Fourteener Guidebooks for more detailed route descriptions. We suggest checking multiple resources before departing on any hike. Keep in mind that not all guidebooks list this recommended route and that each guidebook's description or route name may vary slightly.
Peak Specific Environmental and Safety Concerns Camp and Travel on Durable Surfaces. Stay on trail to ascend and descend, do not cut switchbacks. Camp away from trails and water and avoid fragile vegetation.