SUPPORT CFI
Every donation counts!
Donations from individual Fourteener enthusiasts play a critical role in CFI's field successes. Gifts match restricted grants, while funding expenses many foundations and corporations will not cover, such as feeding field crews and transporting crews and supplies to remote trailheads.
Click here to donate now
CONNECT
Follow CFI on Facebook

Add us on Facebook! Follow our updates and see our newest crew photos from the field.
Find out how to promote your page too
UPDATES
What we've been doing
Crestone Needle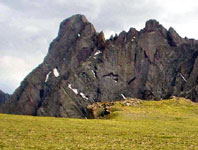 Elevation:14,197 feet (20th highest)
Maps:USGS Quad: Crestone Peak
Trails Illustrated® – TOPO Map #138 Click here to purchase Trails Illustrated® maps for this route.
Contact:US Forest Service, San Carlos Ranger District (719) 269-8500
Recommended Route
South Colony Lake Route—use of this route will help to reduce impacts to this Fourteener's fragile alpine environment. For more detailed route information including pictures, maps, and elevation profiles, click here.
Route Information and Additional Resources
South Colony Lake Road leaves CO Hwy 69 approximately 4 miles south of Westcliffe, CO. Follow South Colony Lake Road to the lower parking area on the open flats at the base of the mountain. Park passenger vehicles at the lower lot. Four wheel drive vehicles are required to travel the road beyond that point. It is 6 miles from the lower parking area to the trailhead which is at the end of the 4X4 road. The road is extremely rough and requires a full hour to drive. From the trailhead go northwest, still following the old road, for approximately 1.2 miles to South Colony Lake.
The route up Crestone Needle is complex, with loose rock and exposure. Consult guidebooks for appropriate detail to climb safely. A snowfield typically covers the couloir and talus field below the north side of the saddle between Crestone Needle and the Broken Hand Peak until late July. Early season climbers should have an ice axe to traverse this snowfield, and to ascend the snow-packed couloir below the saddle.
Crestone Peak and Crestone Needle are frequently climbed in conjunction with each other. Many people prefer ropes for safety on the half-mile traverse between the peaks.
The above information does not replace the need to consult additional maps and Colorado Fourteener Guidebooks for more detailed route descriptions. We suggest checking multiple resources before departing on any hike. Keep in mind that not all guidebooks list this recommended route and that each guidebook's description or route name may vary slightly.
Peak Specific Environmental and Safety Concerns
Do not leave vehicles or camp on the 1.2 miles of private property between the parking area and the National Forest boundary.
Leave dogs at home. Dogs are unable to negotiate the long final coulior leading to the summit. Rock helmets are highly recommended.
Avoid camping at Cottonwood Lake. The basin around Cottonwood Lake is still pristine. There is very little evidence of Fire rings, social trails, or trampled camping sites. Please camp at one of the already impacted sites below S. Colony Lakes. Remember, there is no camping within 300 feet of the lakes in the Sangre de Cristo Wilderness.