SUPPORT CFI
Every donation counts!
Donations from individual Fourteener enthusiasts play a critical role in CFI's field successes. Gifts match restricted grants, while funding expenses many foundations and corporations will not cover, such as feeding field crews and transporting crews and supplies to remote trailheads.
Click here to donate now
CONNECT
Follow CFI on Facebook

Add us on Facebook! Follow our updates and see our newest crew photos from the field.
Find out how to promote your page too
UPDATES
What we've been doing
Mount Lindsey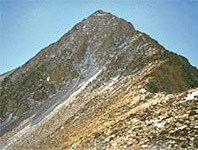 Elevation:14,042 feet (42nd highest)
Maps:USGS Quad: Blanca Peak & Twin Peaks
Trails Illustrated® – USGS Quad: Blanca Peak & Twin Peaks Trails Illustrated® – TOPO Map #138 Click here to purchase Trails Illustrated® maps for this route.
Contact:US Forest Service, Conejos Ranger District (719) 271-8971
Recommended Route
Huerfano River Valley Route—use of this route will help to reduce impacts to this Fourteener's fragile alpine environment. For more detailed route information including pictures, maps, and elevation profiles, click here.
Route Information and Additional Resources
The trailhead is approximately fifteen miles southwest of Redwing, CO. (Redwing is eight miles southwest of Gardner, CO.) through the Singing River Ranch Road and two miles past the boundary of the San Isabel National Forest. The road through Singing River Ranch is rough and high clearance vehicles are necessary to negotiate the final six miles. Singing River Ranch is private property; please do not park or camp on the ranch property, close any cattle gates behind yourself. Passenger vehicles must park in the parking area at the southwest end of the State Wildlife Area.
From the posted Huerfano River trailhead, hike south approximately one mile. At present there is no marked or established trail or signage where the route cuts off the Lily Lake trail. After fording Huerfano Creek, braided trails head southeast, then consolidate onto a steep route up to a large, flat valley head. Blanca and Ellingwood can be seen to the southwest, a false summit of Lindsey is seen to the southeast. Lindsey's northwest ridge is gained via a couloir that contains loose rock hazards.
The above information does not replace the need to consult additional maps and Colorado Fourteener Guidebooks for more detailed route descriptions. We suggest checking multiple resources before departing on any hike. Keep in mind that not all guidebooks list this recommended route and that each guidebook's description or route name may vary slightly.
Peak Specific Environmental and Safety Concerns
Camp and Travel on Durable Surfaces. Travel on most heavily impacted trail. Avoid creating any new paths through the timber.
The northwest ridge and summit of Mount Lindsey are private property, Please be respectful.