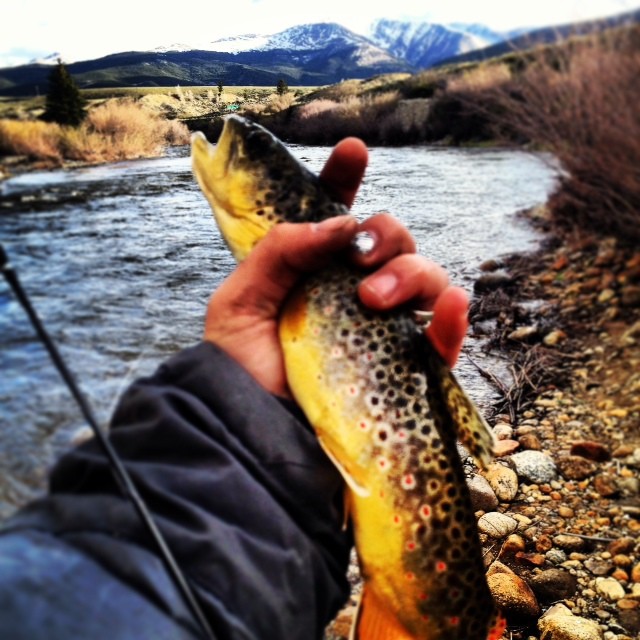 As I lie in a top bunk in the yurt and lose myself through the stars, I can think of nothing. My mind has finally, thankfully, stopped beating.
I wake to the sand pounding the walls and it sounds miserable out as I'm so very cozy in my bag. I push myself to get up; maybe the lake is calm and ready for fishing. I know nothing about high altitude angling but I'm willing to try and try again until something works.
I spend the day hanging out with 17 other amazing people; who are from all across the US, all with different backgrounds and ages but somehow we have made it here to CFI. There is a common thread between us all, a visceral joint in which we all crave the outdoors and protecting this delicate earth. Learning from these new friends, and teaching and sharing what I know is such a great feeling and I am just truly elated to be here.
The day ends and the sun lies down slowly behind the snow-bearing clouds. Tom, Ben, and I drive seven miles up the road and drop a line in. Remember: I know nothing. I have just gone to the store and returned with Night Crawlers, a spinner, and even a Woolley Booger fly (even though all I have is a regular Wal-Mart rod). Back in Alabama we go out on a little boat and drift down the river. We toss in jugs that have a thin cord tied around them. From the cord is a two-foot long piece of line, followed by a large weight and hook. We slowly cruise the water, baiting the hooks with large Crawfish and shrimp and tossing them from the boat. Left, right, left, right. After we have 50 to 100 jugs out we can look back down the river and there's a long zig-zag line of floating jugs; now we wait. Once we see one take off and a jug is zipping around the river we simply pull it from the water and just hope it's a big Catfish we can fry up for dinner!
I have a feeling Colorado fishing won't be this easy.
We park on the road just above the Arkansas River. I throw a worm in and the cast nearly reaches the other side of the water. The river slams into rocks just under the old railroad tracks. The worm is juicy, my fingers frozen, the river rages over rocks… there's nothing. I put on a light weighted lure that has a fat white round head and a fly like white tail, Wally World special. Second cast, THERE IT IS!! I hook it and pull it on in. I'm ecstatic; give a loud scream of "Whoodie HOOO!!" to the boys… my first trout.
Today I realize that not only do I have the most amazing job (maintaining the peaks of the famous 14ers of Colorado), but also I have the most amazing life, period! I found this following my heart to the mountains and conserving.