Many times every day on the trail, Eric and I field questions from hikers, equally curious about why on earth our grubby duo is moving a huge rock as they are eager to catch their breath from the steep approach to Holy Cross. Even people familiar with CFI and the type of work we do seem to have an interest in what our average day is like. When did you get up here? Are you staying out here all summer? Do you guys ever shower? When's the escalator being installed? (I could have easily paid off my student loans by now if I had a dollar for every time I've heard that one over the years.)
We can't "tweet" our day real-time, but here's an overview of an average day for the Holy Cross crew: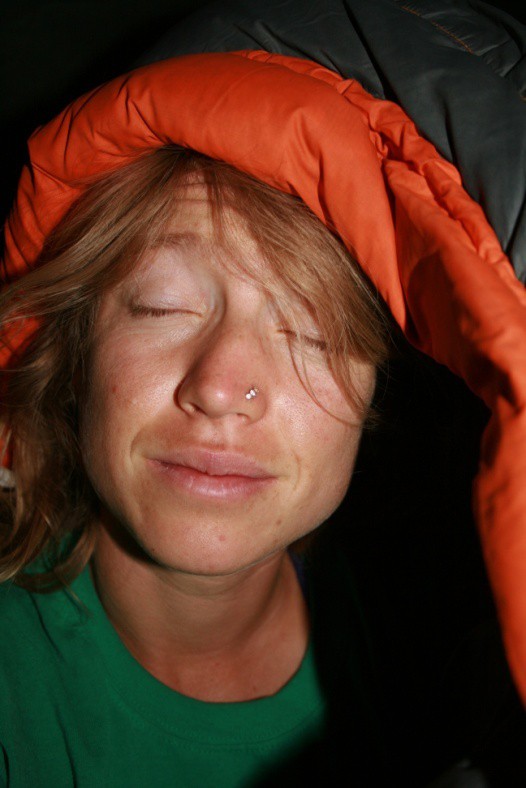 4:00 a.m. Wake-up call. (I really, really tried to keep my eyes open for this picture.) Even as an early riser, even as much as I love the morning, it's never an easy move to shift out of the sleeping bag and pull on that work shirt. Checking for the local mountain lion outside my tent—I haven't seen her yet, but she's come into camp near where I sleep in years past—I stumble over to our basecamp tent in the dark and start making eggs to power up the hike.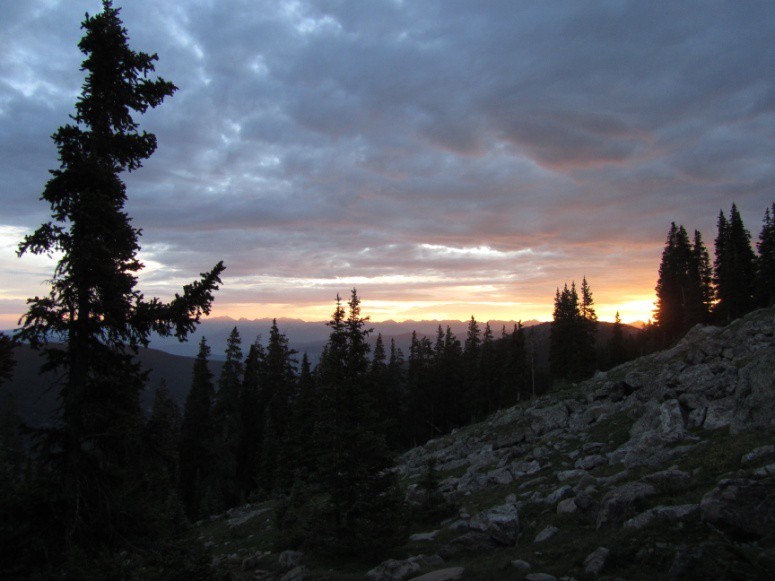 5:43 a.m. Getting up to treeline. Sunrise over the nearby Gore Range is always pretty good from this point.
6:57 a.m. Find the perfect rock. We're lucky in that Holy Cross has an abundant rock source—lots of talus fields. That means we don't have to hike too far out of the way to get a rock with flat edges that works well for building.
7:15 a.m. Finally get the rock to the area that needs some erosion control. Know that it's not lunchtime yet and try to pretend that my stomach isn't already growling.
7:25 a.m. Finish digging a hole for the rock and flip the rock into the hole.
7:27 a.m. Struggle to move the rock exactly two centimeters to the left to make it match up with another rock. I'm looking for "high outside contact" as we call it, which will stop sediment and brake water as it moves down the trail. Moving a giant rock over just the smidge that you want is, by far, the most physically and mentally frustrating part of rock work.
7:34 a.m. So…close…just a hair more…
7:42 a.m. Come on! PLEASE move over…just half a centimeter!
7:44 a.m. Contact. The step doesn't move, and should slow down water enough to stop carving the gullies that the monsoon rains had begun to form in this area.
7:57 a.m. Finish crushing smaller rocks behind the step with a small sledgehammer (called a singlejack), which will help to fill in the rest of the hole behind the step. As water deposits sediment behind the step, this will further stabilize the step over time.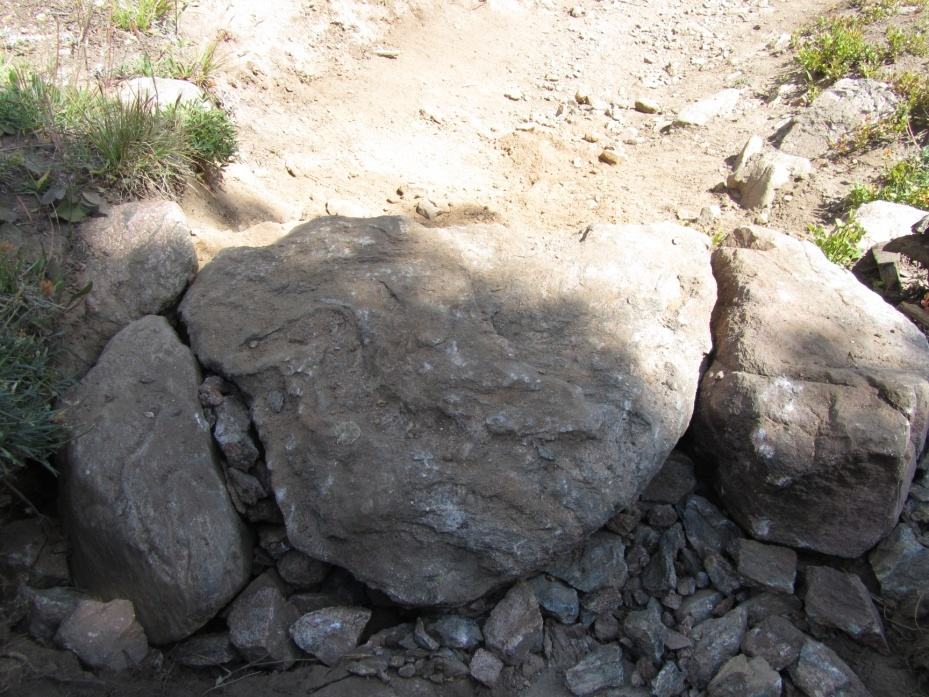 8:04 a.m. Give in even earlier than usual and start munching away at my lunch. It never lasts much longer than 10 a.m.
8:09 a.m. Find another rock.
8:19 a.m. Dig another hole.
And so it goes for the majority of the day. Far from tedious, each step or structure is a puzzle, and I have always enjoyed the balance that trail work strikes between exercising your body as well as your mind. The day is likewise punctuated by cheerful conversations with hikers and discussions with Eric about the latest NPR stories that we heard on the drive up to the trailhead. "So what do you think the US should do about Syria?" "That Garrison Keillor…." And so on.
2 p.m. Cache the tools for the day. The section we worked on is coming along!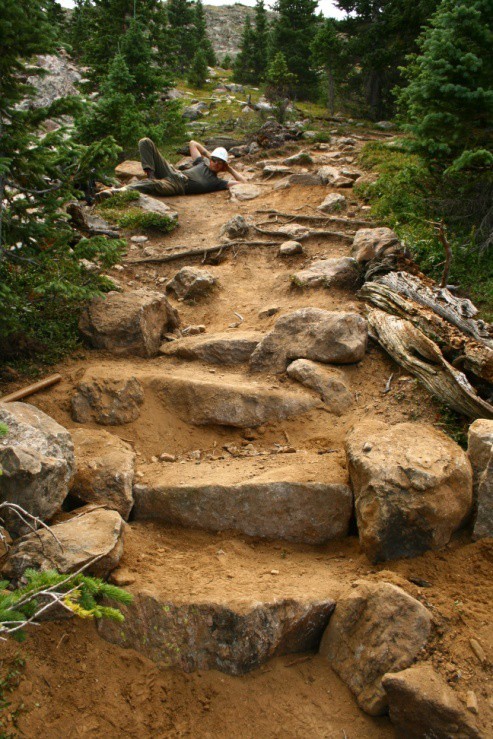 4 p.m. After a quick dinner, finish up our workday by hiking around to every campsite at East Cross Creek. A unique part of the Holy Cross position this season involves monitoring and maintaining the new campsites that were just finished last year. The designated campsites were put in to mitigate impacts to the waterways near East Cross Creek from hikers camping too close to the water. This is the pilot year to track usage and make improvements, if needed.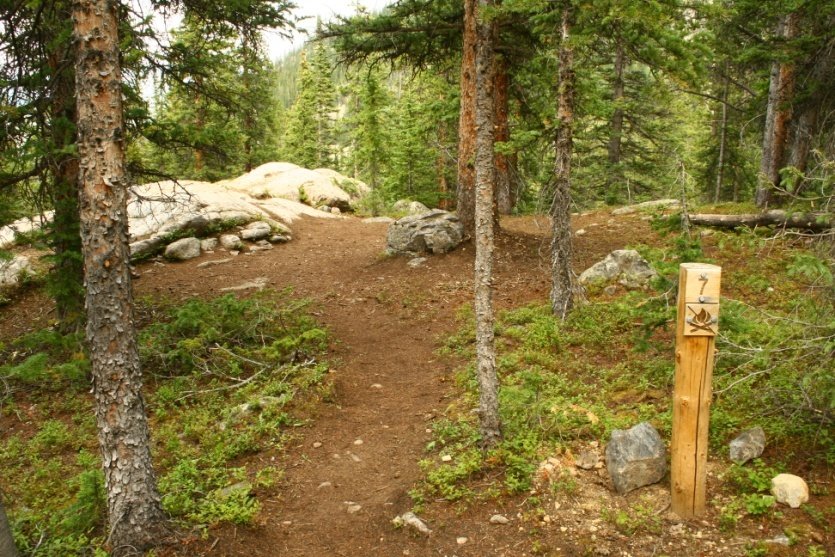 6:37 p.m. Drag two six-gallon containers up the hill from the creek, do our dishes, and call it a day. Sometimes I'll make it a little way through my book; most of the time I'm passed out before 7 p.m. Listening to the sound of an evening thunderstorm reverberate off the switchbacks on Halfmoon Pass, I drift off to another night in the Holy Cross Wilderness.