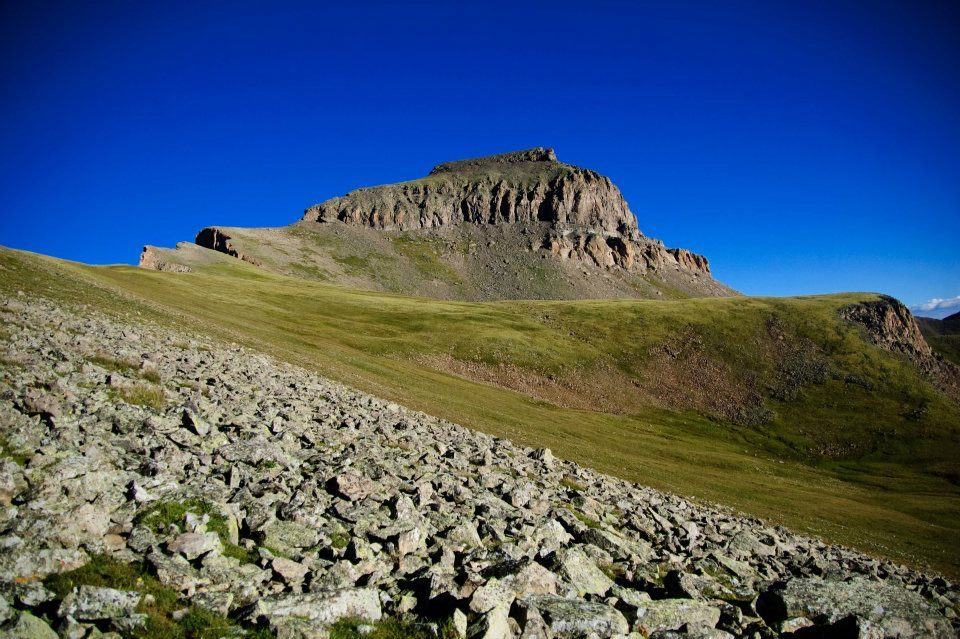 We folks on the Roving Backcountry Crew have been hitting many peaks this summer: Missouri, Massive, Missouri, Massive, Miss… OK, we've gone to other peaks, too, but you get the point. While we've gotten to know and love these mountains, we get plain pumped when we have the opportunity to see more of Colorado's beauty. Uncompahgre Peak, of course, did not fail us.
Another point of fact: We are on the backcountry crew. When we heard that Uncompahgre was going to be car camping after two-plus months of hiking our 60-pound packs up these hillsides, the excitement ran anew. We could bring all our stuff in a truck!
As the moment of confusion/excitement/giddiness passed, we started planning.
Three pounds of bacon…per person. Check.
Frisbee. Check.
Djembe. Check.
Mushroom hunting books. Check.
Fresh fruits and veggies. Check.
Camp chair. Check.
Guitar. Check.
Shantaram (Guinn's 900+ page epic novel). Check.
Harmonica. Check.
Gameboy + Super Mario. Check.
It was the Ritz! After a hard day's work we came down from the mountain to a multitude of do-it-yourself entertainment.
Ponder this: After a round-trip hike of six-plus miles—not to mention doing some pretty darn good trail work—we got to come down and sit in a camp chair. Not on our butts. Not on a rock. Not in the dirt. A camp chair. I believe hotels.com rates Uncompahgre at least six stars. Yes, six! If Uncompahgre were a bed, it would be a waterbed. Not the weird ones, though. The most excellent one, with a camp chair standing at the ready!