Current & Future Projects
2017 Field Season
After another record breaking year in 2016, Colorado Fourteeners Initiative is anxious to get cracking on the following trail reconstruction, restoration, and maintenance projects planned for the 2017 summer field season.
Mount Elbert
A five-person fixed site crew working with a Rocky Mountain Youth Corps crew will commence work on a multi-year trail reconstruction project on Mount Elbert's East Ridge trail (accessed from the South). The crew members will work to reconstruct more than two miles of trail near and above treeline. In addition, they will work to close and stabilize nearly one mile of the old trail corridor and restore 0.3 mile of eroded alpine tundra. CFI will also host multiple volunteer trail stewardship projects on the peak.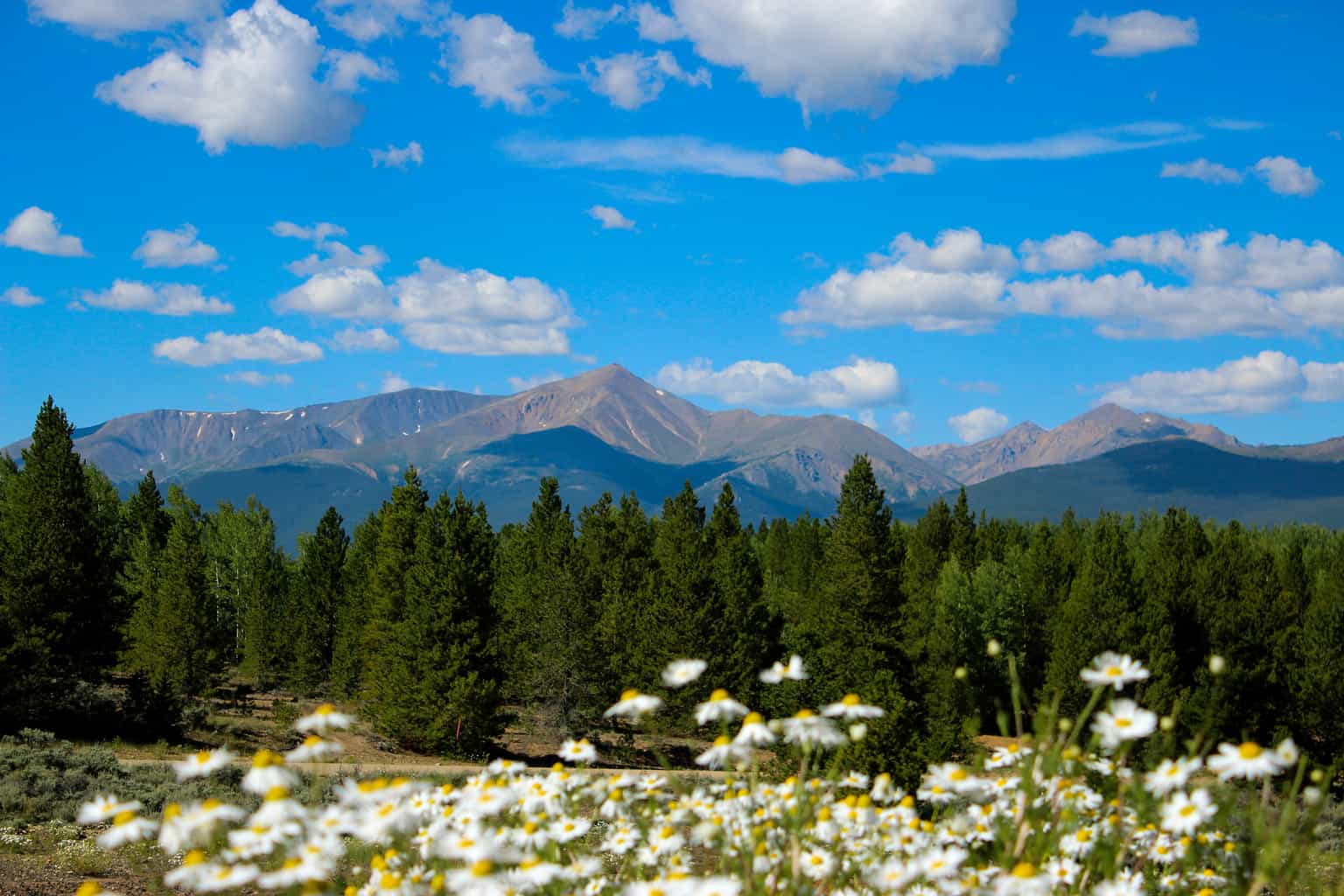 Mount Columbia
CFI will have five crew members working with the Forest Service and a Southwestern Conservation Corps crew on the second year of a multi-year, major trail construction project on Mount Columbia. Work this season will pick up where the crew left off in 2016 and focus on completing the middle section of new trail construction. After a season of working in talus with an abundance of suitable rocks for building trail features, the project will move into the tundra where building materials are few and far between. The crew leaders will undergo an intensive cable rigging training in the spring and will utilize a cable system to safely and more efficiently move rocks from higher on the mountain to the work site below.
Zoom in on the "gigapan" below to see high resolution photos of the work completed by CFI crew members in 2016. Follow the area higlighted in green to take a virtual tour of the new route!
Quandary Peak
CFI's two-person mini-maintenance crew will return to the high-use Quandary Peak near Breckenridge for a second season, maintaining the entire length of the trail. The crew will continue to address the extensive backlog of needed trail improvements with a heavy focus on maintenance and reconstruction efforts located on the upper slopes high above timber line. Educating hikers about the importance of following Leave No Trace practices while recreating in this fragile ecosystem will be paramount. CFI will host several single and multi-day volunteer trail maintenance projects on the peak as well.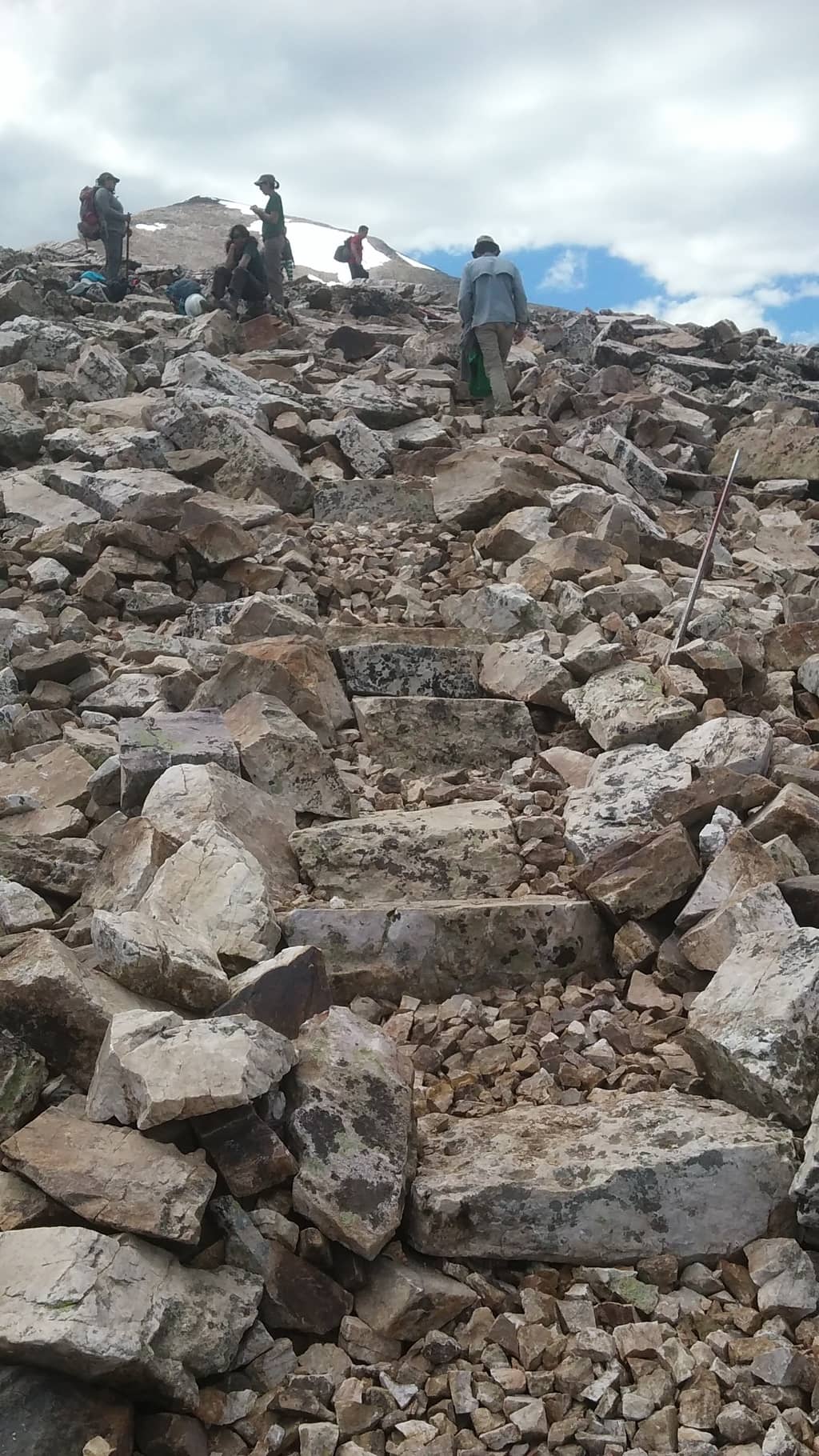 Adopt-a-Peak Crew
The Adopt-a-Peak program is a partnership between CFI and volunteer groups, varying from high school students to working professionals to outdoor club members. This year the Adopt-a-Peak crew will employ eight members and will spend the season carrying out an estimated 60 trail maintenance and restoration projects on roughly 20 of Colorado's Fourteeners. In 2016, CFI engaged more than 700 individual volunteers who worked 1,566 volunteer days on the 14ers – an all-time record!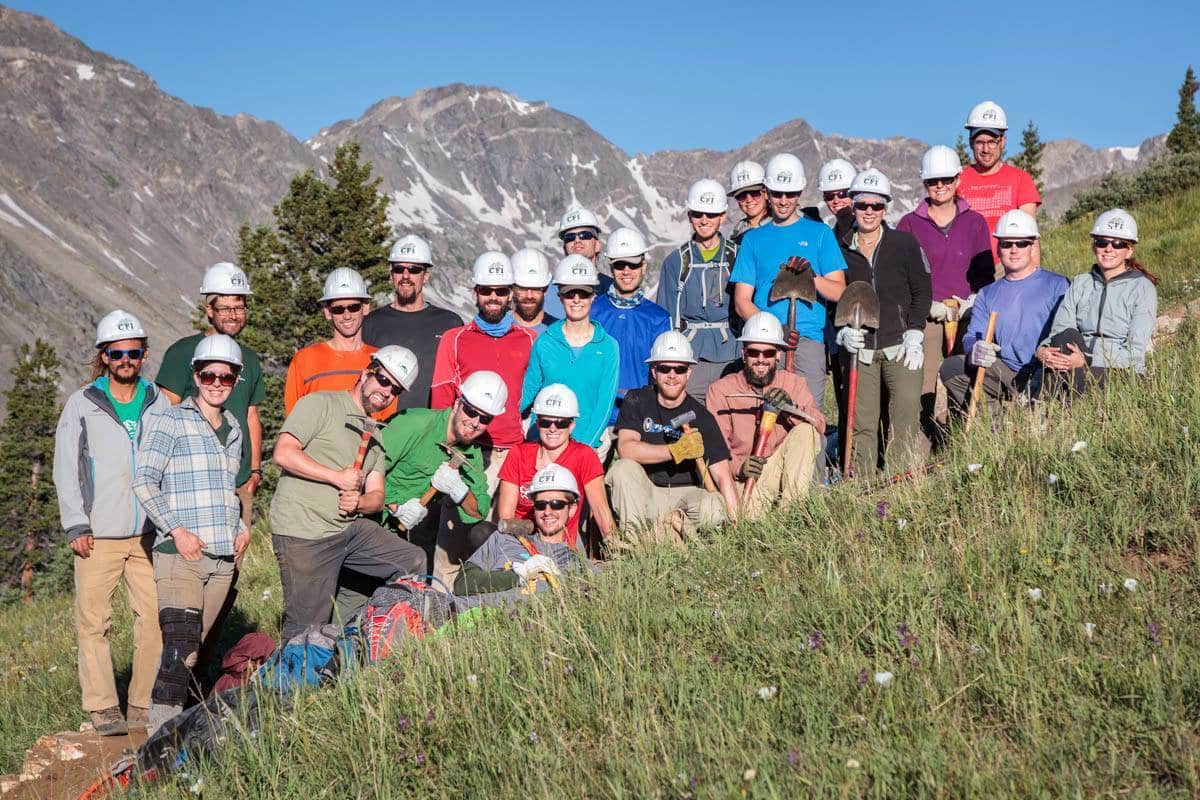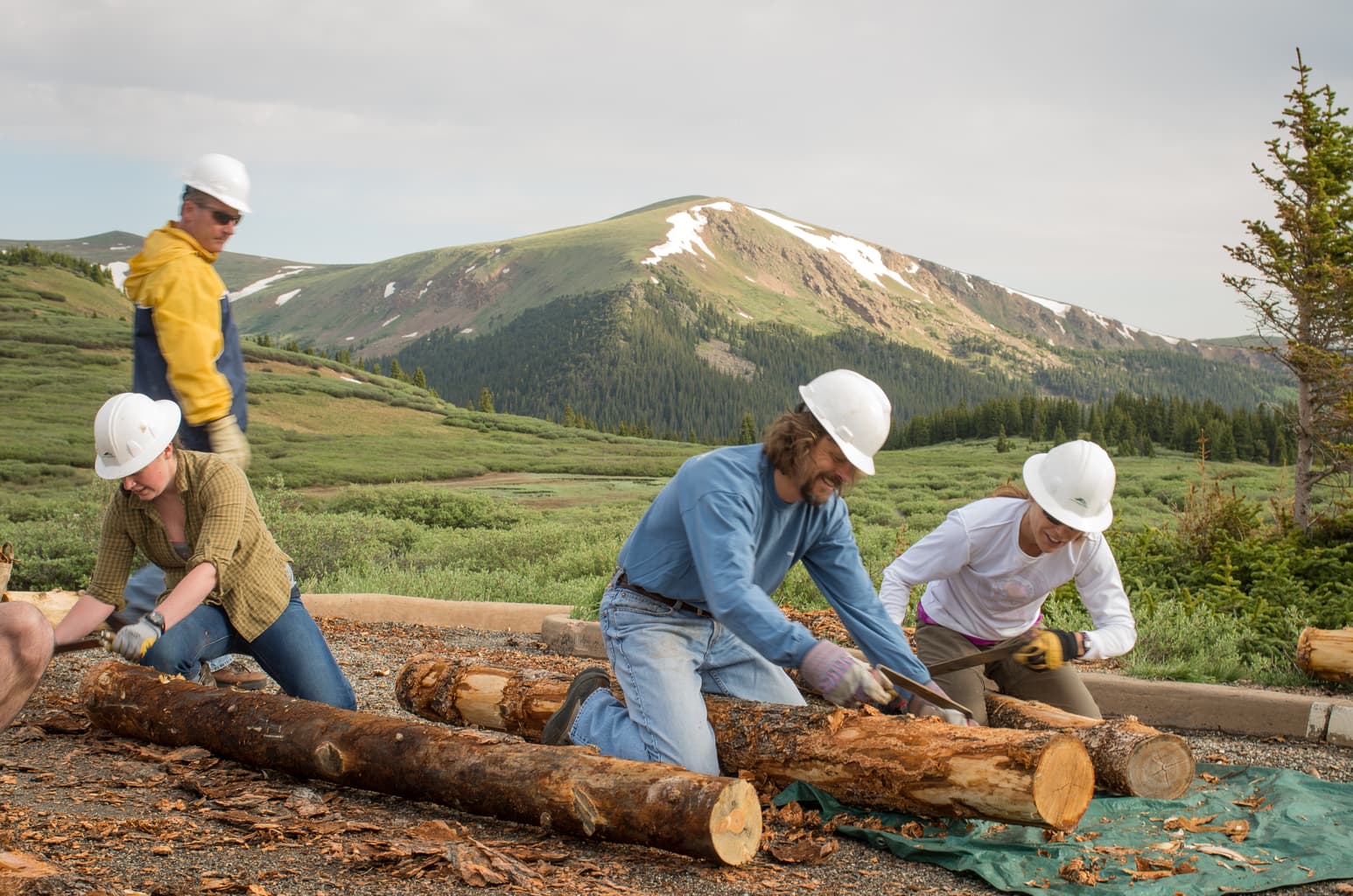 Sustainable Trails Program
The baseline data collection effort that was conducted in 2011-13 is now finished and published as the 14er Report Card. In 2017, veteran crew leader and returning CFI employee Tom Cronin will work to capture baseline data on several of the peaks that were not initially inventoried in Phase I. Tom will also start the re-inventory process to help CFI determine how on-the-ground conditions are improving or degrading over time. CFI plans to release a report detailing how conditions have changed on three separate peaks where varying levels of maintenance and restoration have occurred. In July 2016, CFI released the first ever report on "14er Hiking Use and Economic Impact" which estimated that 260,000 hiker use days occurred on Colorado's 14ers in 2015. This information was then paired with research done by CSU professors John Loomis and Catherine Keske – which found that Fourteener climbers in 2009 spent an average of $271.17 per trip (food, equipment, lodging, etc.) to reveal a statewide economic impact of $70.5 million generated by 14er hikers annually. CFI will conduct a fourth season of trail counts using infrared trail counters so that more accurate projections can be obtained regarding current hiking use on the 14ers. This season CFI will have infrared trail counters located on 20 summit routes throughout the state and hopes to release the second edition of the report with updated hiking use estimates.