SUPPORT CFI
Every donation counts!
Donations from individual Fourteener enthusiasts play a critical role in CFI's field successes. Gifts match restricted grants, while funding expenses many foundations and corporations will not cover, such as feeding field crews and transporting crews and supplies to remote trailheads.
Click here to donate now
CONNECT
Follow CFI on Facebook

Add us on Facebook! Follow our updates and see our newest crew photos from the field.
Find out how to promote your page too
UPDATES
What we've been doing
Educate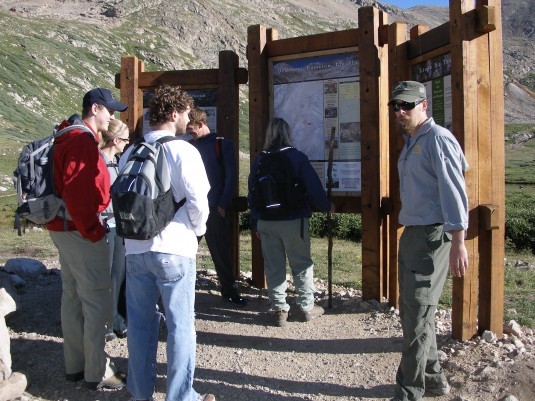 Educating the estimated half-million people who climb the Fourteeners annually is vital to reducing impacts on the rare and fragile alpine tundra found on these peaks. A small number of hikers engaging in impactful behaviors can cause a greater amount of damage to native vegetation than a large number of hikers using minimum impact techniques. Colorado Fourteeners Initiative uses a multi-pronged strategy to educate Fourteener enthusiasts nationwide about Leave No Trace practices, including web videos, community presentations, trailhead kiosks, and on-mountain talks. Short videos on a number of educational topics ranging from alpine botany to mountain weather are posted on CFI's YouTube Channel. During peak hiking season, CFI gives talks at Denver-area REI stores as part of the company's "How to Climb a Fourteener" clinics. Educational trailhead kiosks have been installed at many of the most popular Fourteener trailheads. Volunteer "Peak Stewards" donate their time to educate hikers on the peaks about ways to protect fragile alpine ecosystems from damage due to inappropriate use. Since 2002, Peak Stewards have volunteered more than 1,200 days educating the hiking public.