SUPPORT CFI
Every donation counts!
Donations from individual Fourteener enthusiasts play a critical role in CFI's field successes. Gifts match restricted grants, while funding expenses many foundations and corporations will not cover, such as feeding field crews and transporting crews and supplies to remote trailheads.
Click here to donate now
CONNECT
Follow CFI on Facebook

Add us on Facebook! Follow our updates and see our newest crew photos from the field.
Find out how to promote your page too
UPDATES
What we've been doing
Maintain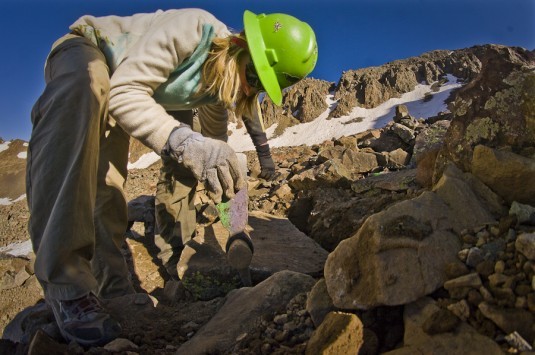 Fourteener summit trails are built of available rocks, logs and soils found in high alpine environments. Heavy winter snows, violent summer thunderstorms, and the impacts of an estimated half-million hikers annually take a heavy toll on even the most sturdily constructed summit trails. To keep these summit trails in great shape, Colorado Fourteeners Initiative enlists volunteer stewardship organizations, local businesses, youth summer camps, college programs, and other groups of organized volunteers to perform routine trail maintenance through the Adopt-a-Peak program. This active stewardship work protects trail structures, controls erosion, and restores denuded areas. Since 2001, more than 9,200 volunteer days have been performed.
CFI has been working since 2011 to develop a GIS-based trail conditions modeling program that will assess the severity of natural resource problems and track the conditions over time on constructed and user-created summit trails. The Sustainable Trails Program is helping CFI prioritize future maintenance projects and will ensure that limited funding and volunteer efforts are focused on the highest priority projects to build out and maintain the network of summit trails on the 14ers. To date 43 summit or approach trails have been inventoried. Click here to watch a Google Earth video flyover showing the condition of the Capitol Peak trail. In 2014 CFI will begin tracking visitor use to correlate on-the-ground impacts with the amount of hiker use.