SUPPORT CFI
Every donation counts!
Donations from individual Fourteener enthusiasts play a critical role in CFI's field successes. Gifts match restricted grants, while funding expenses many foundations and corporations will not cover, such as feeding field crews and transporting crews and supplies to remote trailheads.
Click here to donate now
CONNECT
Follow CFI on Facebook

Add us on Facebook! Follow our updates and see our newest crew photos from the field.
Find out how to promote your page too
UPDATES
What we've been doing
North Maroon Peak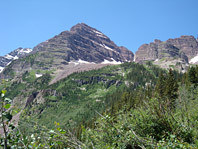 Elevation: 14,014 feet (50th highest)
Maps:USGS Quad: Maroon Bells
Trails Illustrated® – TOPO Map # 128
Click here to purchase Trails Illustrated® maps for this route.
Contact:US Forest Service, Aspen Ranger District (970) 925-3445
Our Work CFI began major trail construction and restoration on North Maroon Peak in 2012. Work on the peak continues this summer.
Click here to see a Google Earth projection of CFI's project on North Maroon!
Recommended Route Maroon Lake Trailhead Route—use of this route will help to reduce impacts to these Fourteeners' fragile alpine environments. The route up North Maroon Peak is complex, has significant exposure, and contains dangerous loose rock. For detailed route information including pictures, maps, and elevation profiles, click here.
Route Information and Additional Resources The trailhead is approximately 10 miles from Aspen at the Maroon Lake Campground. Maroon Lake Road is closed to personal vehicle travel from 8:30 AM to 5:00 PM from mid-June to mid-September. During these times, a shuttle bus must be used. Contact the bus company at 970-925-8484 for the latest information on the shuttle.
The trail runs southwest to Crater Lake (camping is restricted at Crater Lake) and then heads south along West Maroon Creek before heading west up Maroon Peak. Again, the route up South Maroon Peak and North Maroon Peak is complex, has significant exposure, and contains dangerous loose rock. Loose rock creates a safety hazard to both the hiker and people below. The traverse between South Maroon and North Maroon Peaks takes experienced climbers from one to two hours, in good weather. Many people prefer the protection of ropes; however gear placement can be difficult.
The above information does not replace the need to consult additional maps and Colorado Fourteener Guidebooks for more detailed route descriptions. We suggest checking multiple resources before departing on any hike. Keep in mind that not all guidebooks list this as a recommended route and that each guidebook's description or route name may vary slightly.
Peak Specific Environmental and Safety Concerns Do not leave any ropes, hardware or slings along the route. These would be considered "permanent structures" and would be inappropriate for the Wilderness.
Avoid the temptation to descend snow-filled couloirs unless you already know the route and have evaluated the avalanche potential. Many hikers have been killed by rock falls and avalanches in these couloirs. The Maroon Bells are among the most difficult and dangerous Fourteeners. Only experienced and knowledgeable climbers should attempt these peaks.