SUPPORT CFI
Every donation counts!
Donations from individual Fourteener enthusiasts play a critical role in CFI's field successes. Gifts match restricted grants, while funding expenses many foundations and corporations will not cover, such as feeding field crews and transporting crews and supplies to remote trailheads.
Click here to donate now
CONNECT
Follow CFI on Facebook

Add us on Facebook! Follow our updates and see our newest crew photos from the field.
Find out how to promote your page too
UPDATES
What we've been doing
Wetterhorn Peak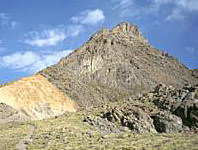 Elevation: 14,015 feet (49th highest)
Maps:USGS Quads: Uncompahgre Peak and Wetterhorn Peak
Trails Illustrated® – TOPO Map # 141
Click here to purchase Trails Illustrated® maps for this route.
Contact:US Forest Service, Gunnison Ranger District (970) 641-0471
Our Work CFI completed major trail construction and restoration on Wetterhorn Peak in 2004. Due to annual traffic on this peak, the standard route is maintained regularly by CFI and partner organizations.
Recommended Route
Matterhorn Creek Route – use of this route will help to reduce impacts to this Fourteener's fragile alpine environments. For detailed route information including pictures, maps, and elevation profiles, click here.
Route Information and Additional Resources
This trailhead is approximately eleven miles west of Lake City, CO. The trail follows Matterhorn Creek, and if you have a four-wheel drive vehicle, you may be able to drive to a parking area near the Uncompahgre Wilderness Boundary. This route gains Wetterhorn's southeast ridge and goes around the prominent 'sharks tooth'. Stay on the trail from trailhead to summit and return.
The above information does not replace the need to consult additional maps and Colorado Fourteener Guidebooks for more detailed route descriptions. We suggest checking multiple resources before departing on any hike. Keep in mind that not all guidebooks list this recommended route and that each guidebook's description or route name may vary slightly.
Peak Specific Environmental and Safety Concerns
Observe wildlife quietly and from a distance. You may encounter domestic sheep grazing. No butterfly collecting is allowed.
Concentrate travel along existing routes. Do not cut switchbacks.
Please travel in small groups. Group size should not exceed over 25 (including pack animals).