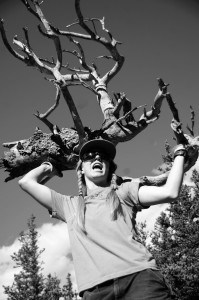 This is my third season on the trail, and I've got to tell you it's been the best one yet. I've had the outstanding fortune to develop a wonderful working relationship with my Outdoor Leadership Intern, Jessica Wagner.
I've watched her grow as a leader and project manager and began handing over the reins (slowly and methodically) as the season progressed. She just managed her own multi-day backcountry volunteer project up on Mt. Harvard a few weeks ago, and I couldn't be more proud of her. She was on her own as the project leader from start-to-finish, with no immediate support or oversight. She rocked it!
We've been working together since the end of May, starting with an informal introduction at the office in Golden, then rolling right into logistics and project prep for the season. During our first few hitches, we were more or less flying solo, taking the opportunity to get a read on each other and working out our systems. It wasn't long before we were embracing our mutual quirks, making up lyrics to Disney songs, doing our best movie impressions, and playing games on the trail. If you hiked by and heard a lot of nonsensical exchanges followed by roaring laughter, then you had found us.
Jess had never done trailwork before, but she caught on quickly. She was eager to learn the finer points, to understand the underlying principles, and to develop her own style. She's accomplished all that and more over the past few months. We've had our struggles this season: weather, miscommunication, unforeseen circumstances, and the like. But at the end of the day, we're buddies. Even more than that, we're co-leaders. We've worked out the best way to support each other and come to appreciate each others redeeming qualities. We've had endless fun together and with our wonderful Adopt-a-Peak volunteers. She wants to come back next season, and I've got to say that CFI (and all of you reading this) would be lucky to have her.
Congratulations on an awesome season, Jess. You're a total rock star!