The iconic "cross" that is etched on its face made Mount of the Holy Cross a historic mountain. Although the cross is not as prominent as it once was, Holy Cross is still one of the most recognized and well-known peaks among the Fourteeners. It is also one of the more arduous and remote peaks, and its beauty and fame draws thousands of hikers each year.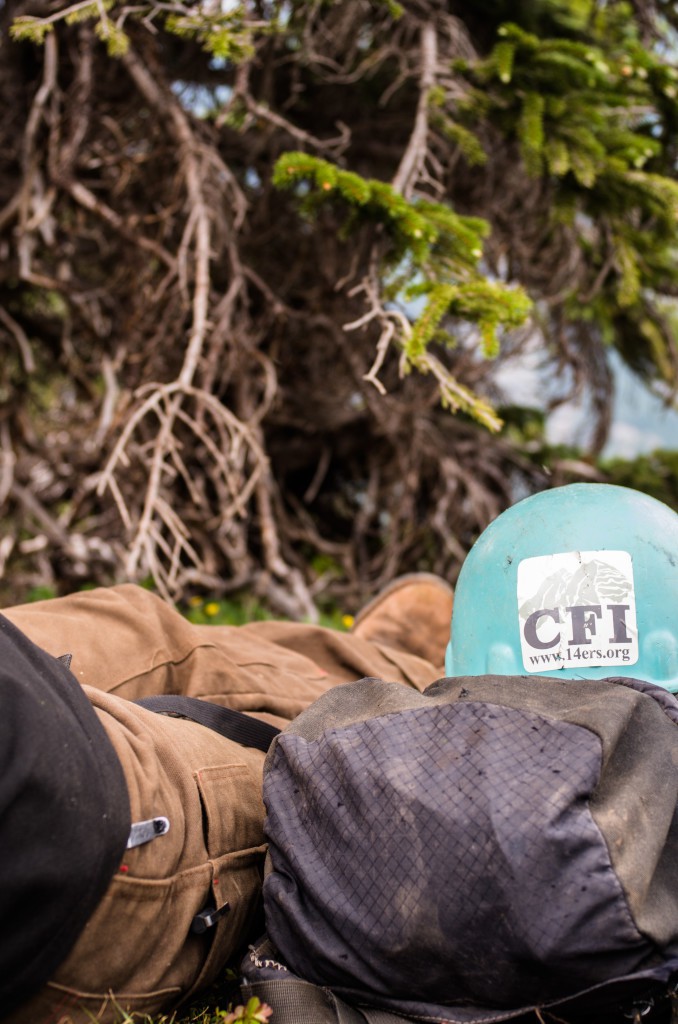 We first started focusing on intense trail reconstruction on Holy Cross in 2012. Halfmoon Pass, the easiest and most common route to the summit of Holy Cross, has a number of user-defined trails that would often lead hikers away from the summit and into unknown territory. The trail that CFI has been constructing contains features that make the actual summit trail easier to follow and less susceptible to erosion over time. This year, the crew's mission was comprised of four main goals:
1) Continue adding features to the Halfmoon trail, especially on the east side of Halfmoon Pass, and begin reconstruction of the Notch Mountain Trail
2) Conduct restoration of the previous user-defined trails
3) Close user-defined campsites and educate hikers about using the new designated campsites in East Cross Creek and proper Leave No Trace ethics.
4) Install new educational panels on the Halfmoon trailhead kiosk and a camping-specific kiosk in East Cross Creek.
Leading CFI's Holy Cross crew were Rob Duddy and Christina (Steena) Cultrara. While Rob has worked previously with CFI as a member of the Rocky Mountain Youth Corps, neither he nor Steena have ever lead a crew for CFI before. The two ultimately accomplished some great work, successfully reaching each of the three goals identified at the beginning of the season. They maintained 12.6 miles of trail and over 400 linear feet of drains, installed 61 crib steps and 35 check steps, and cleared 31 trees from the trail. They also managed to interact with countless hikers and campers in East Cross Creek, which will contribute to an increased general knowledge of sustainable camping on Holy Cross.
Rob and Steena encountered their own challenges on Holy Cross. They were required to adhere to USFS Wilderness regulations, as Holy Cross is located in the Holy Cross Wilderness, which meant restrictions on tools and procedures used for trail maintenance. The Holy Cross Wilderness also caused them issues as a vast and isolated area. Patrolling for user-made campsites meant following the user-defined trails, and our crew discovered first-hand just how misleading these trails can be as they became lost on several instances. Nevertheless, we are extremely happy with the work that Rob and Steena accomplished on Holy Cross, and we are looking forward to continuing work on Holy Cross in the seasons to come.
We would like to thank the National Forest Foundation's Ski Conservation Fund, Vail Resorts, Copper Mountain Resort, Arapaho Basin Ski Area, and Patagonia for making this project possible. We would also like to thank Rob and Steena and volunteers from Volunteers for Outdoor Colorado and Colorado College for some great work on Holy Cross this season!